Asphalt testing is a great way to produce some of the best asphalt mixes, and ensures quality control and consistency. In order to guarantee that the asphalt meets the special requirements of each project, Wolf Paving made the decision to test their asphalt in-house.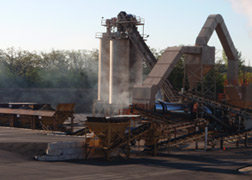 We began testing our asphalt in our own manufacturing plant. Doing our own in-house asphalt testing allows for specific research and development of our asphalt and the experimentation for new asphalt mixes.
Another benefit of in-house asphalt testing is that we are able to meet and exceed the needs of our customers and the special requirements made in projects. We are also able to make different asphalt solutions for the various locations we serve such as Waukesha, Oconomowoc, Madison, and Milwaukee – areas that deal with different amounts of traffic volume.
With in-house asphalt testing, we are able to ensure customer satisfaction, by providing them with the best quality products. In-house testing is an ideal situation that leaves both our customers and the company satisfied with quality asphalt pavement. Contact Wolf Paving with an asphalt challenge and let us put it to the asphalt test.