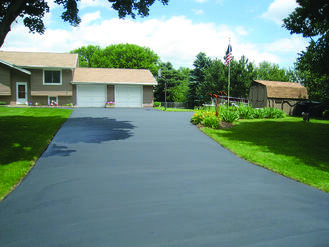 Did you know that your driveway can actually help you sell a home? If properly tended and pleasantly landscaped, an asphalt driveway has curb appeal that tells viewers it is part of an attractive, well-maintained home and neighborhood. However, a driveway that is cracked, potted and weedy doesn't encourage potential buyers. A shabby driveway may be cause to wonder whether other parts of your home that aren't seen are equally neglected.
Here are three key areas for dressing up your home's façade by grooming the asphalt ribbon leading your entryway or garage.
Give It an Edge: 

Simple brick or stone edging materials look elegant in contrast to raggedy grass margins along an asphalt driveway.
Remove a narrow swatch of grass as wide as the edging material along both sides of the driveway.
Make this trough 2 inches deeper than the depth of the edging. T
hen add 2 inches of sand base and level it smoothly before laying the stones or bricks atop the sand.
Fill any cracks with more sand.
If you install an edge, you may also want to consider adding plants and sidewalk lights along the driveway borders. Solar lights are easy to install because no electrical wiring is involved. They just need to be stuck in the ground and allowed direct sunlight.
Create a Driveway Oasis:
Consider planting the edges of driveways with hearty yet beautiful perennials and shrubs that can handle heat, drought and sudden downpours. Select plants that are native to your region, because they most easily handle local variations in weather.
Drought-resistant yet damp-tolerant plants can also decrease driveway runoff, which is ecofriendly. The Lady Bird Johnson Wildflower Center offers an interactive map of the U.S. where you can click on your state to acquire a list of regional native plants from flowers to trees.
Repair and Repave Asphalt:

No amount of edging or planting can overcome the appearance of asphalt that needs driveway repair/repave work. Filling cracks and sealcoating not only increases the life of a driveway but also makes it look newer.
Sealcoating begins with weeding driveway cracks and using powerful vacuum-cleaning equipment to remove tiny debris from these breaks in the pavement. Then sealcoating is applied to the entire surface. Aside from giving the driveway a deep, dark finish, sealcoating protects it from solar oxidation and winter freeze-thaw damage -- all good selling points when talking with potential homebuyers.
If deterioration is more extreme, such as wide cracks and small potholes, refilling of these openings may need to be followed by a glistening, new pave-over. Homebuyers especially take this amenity into account, because it can increase the life of a driveway up to 20 years and it will save them money in the long run.
A good-looking driveway is essential to curb appeal and a successful home sale. Whether your driveway needs a simple service to freshen its look or major repair, the experts at Wolf Paving can help you move from "for sale" to "sold."
What driveway or parking area maintenance needs do you have as you prepare for the sale of a home?
Download our free brochure highlighting the advantages of sealcoating and crack filling.