Every paving situation is unique because intended use, placement of the paved area and drainage issues can all play a role in decision making. Wolf Paving takes all of these into consideration when we plan a customized asphalt solution for your project.
Let's review the milling, stabilization and pulverizing steps in the asphalt process.
THE MILLING PROCESS
Asphalt milling is the process in which existing asphalt is removed to a specified and even depth to allow new asphalt to be laid down without increasing the height of the road. Because the underlying subbase goes undisturbed existing structures such as curbs and drainage ditches go unaltered. Milling can provide you with a new asphalt surface without the time constraints and high cost of a full reconstruction.
Benefits of Asphalt Milling
Both economical and environmental benefits come from asphalt milling. Asphalt milling costs less than the removal of the entire asphalt surface, which can be several times thicker than a typical milled area. Because the entire pavement section is not removed, a smaller amount needs to be re-paved, which results in further cost-savings because of the reduction of material to needed to re-pave the area. The milled asphalt can also be recycled and reused again at a later time.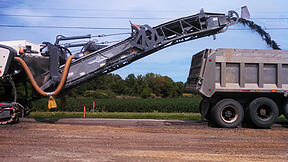 Asphalt milling very economical way to prepare an aged pavement for a new layer of pavement that is no higher than the original pavement, which is very valuable if there are drainage concerns such as existing structures, landscape, or pavements that are not being worked on. It also allows for correction of an aged pavement's drainage prior to surfacing, which fixes an existing drainage problem during the course of construction.
Outcomes of Asphalt Milling
With asphalt milling, the underlying base is not disturbed, making it a proven cost-effective method to prepare an aged pavement area for a new asphalt layer, or resurfacing. Major cracking of underlying existing pavement can reflect through to the new surface over time, but if the pavement itself is structurally sound, these cracks are cosmetic in nature and won't affect the pavements longevity
STABILIZATION OR REBASING
Stabilization is the second part of the process begun through pulverizing. Once the crushed asphalt is left behind, a mixture of tar and other waterproofing and binding agents are overlaid, so that the binding fluid thoroughly mixes in with the crushed asphalt.
After a day or so to harden, the result is a rebuilt asphalt road or driveway. They are made using a minimum of new material, yet every bit as strong and reliable as when the road was laid in the first place. Between pulverizing and stabilization, it's possible to quickly replace asphalt with a minimum of cost, effort, and traffic disruption.
Benefits of Stabilization or Rebasing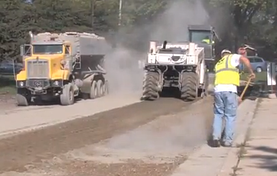 The benefits are correcting ongoing problems with a pavement due to unstable soils. Rebasing extends the life of the pavement significantly.
The outcome is a much longer lasting pavement because problems with the original pavement section have been addressed. Geo-textiles and grids can help distribute loads over unstable soils and provide a barrier preventing underlying soils and base stone from intermingling. Drain tile systems can drain away moisture from overly wet soils, and a proper type and thickness of base stone material helps support the pavement allowing for higher loads and much better longevity than the original base layer could provide.
The Rebasing Process
The original pavement is removed and hauled away for recycling. The existing base material is examined for thickness and type, and if possible and proper, an amount can be stored elsewhere on the site for re-use. If not proper, the existing base is excavated and hauled away. Once the base layer is removed, the subsoil layer is exposed. This layer is examined and tested for stability and a determination is made if an adjustment to stone type, stone thickness, or the addition of geo-textiles, grids, or drain tile should be added to help cure the problematic soils. Soil engineers can be brought in to consult on the most cost effective methods/specifications to follow during the installation of the new base for the pavement.
THE PULVERIZING PROCESS
Pulverizing a parking lot is always intended to minimize the cost of reconstructing a failed pavement by utilizing the existing pavement as new base material prior to paving. No pavement is hauled away, saving costs on excavating and trucking.
Benefits of Pulverizing
Pulverizing an existing pavement is a good option if the existing asphalt pavement is in very poor shape, and is at an overall thickness where if milling was done, it would be insufficient to support paving equipment without breaking through in order to do a re-surface. If test areas show that the base stone for the pavement is insufficient, pulverizing the existing pavement and using it as base material as well can make the difference between needing to excavate and install new base, and grade the pulverized material and paving. It adds to the overall stone base thickness with no material needing to be brought in or out.
Contact Wolf Paving to learn more about asphalt paving or to have your parking lot, road or driveway paved.

With more than 75 years of asphalt paving experience, from highways to driveways, we are your local source for all of your asphalt paving needs.
Wolf Paving offers professional paving services from Milwaukee to Madison, and everywhere in between, including all areas around: Sun Prairie, Oconomowoc and Waukesha.
It's never too early or too late to request a free paving estimate. Call Wolf Paving today. For the Milwaukee area, call us at 262-965-2121. For the Madison area, call us at 608-249-7931.