Every paving situation is unique because intended use, placement of the paved area and drainage issues can all play a role in decision making. Wolf Paving takes all of these into consideration when we plan a customized asphalt solution for your project.
Let's review the milling, stabilization and pulverizing steps in the asphalt process.
Asphalt milling is the process in which existing asphalt is removed to a specified and even depth to allow new asphalt to be laid down without increasing the height of the road. Because the underlying subbase goes undisturbed existing structures such as curbs and drainage ditches go unaltered. Milling can provide you with a new asphalt surface without the time constraints and high cost of a full reconstruction.
Benefits of Asphalt Milling
Both economical and environmental benefits come from asphalt milling. Asphalt milling costs less than the removal of the entire asphalt surface, which can be several times thicker than a typical milled area. Because the entire pavement section is not removed, a smaller amount needs to be re-paved, which results in further cost-savings because of the reduction of material to needed to re-pave the area. The milled asphalt can also be recycled and reused again at a later time.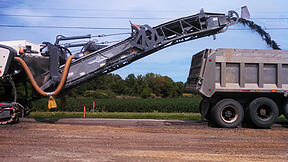 Asphalt milling very economical way to prepare an aged pavement for a new layer of pavement that is no higher than the original pavement, which is very valuable if there are drainage concerns such as existing structures, landscape, or pavements that are not being worked on. It also allows for correction of an aged pavement's drainage prior to surfacing, which fixes an existing drainage problem during the course of construction.
Outcomes of Asphalt Milling
With asphalt milling, the underlying base is not disturbed, making it a proven cost-effective method to prepare an aged pavement area for a new asphalt layer, or resurfacing. Major cracking of underlying existing pavement can reflect through to the new surface over time, but if the pavement itself is structurally sound, these cracks are cosmetic in nature and won't affect the pavements longevity