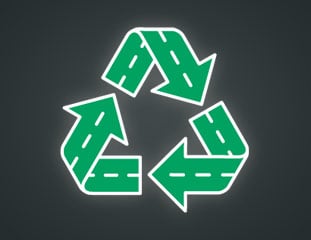 When you think 'green,' recycled asphalt paving probably isn't the first thing that comes to mind, but it's actually one of the most recycled products in America! At Wolf Paving, we seize every opportunity to reuse and recycle materials from our paving jobs.
Leading the Way with Asphalt Recycling
At Wolf Paving, recycled materials play a key role in crafting environmentally-friendly custom asphalt solutions.
About 90 million tons of old asphalt pavement are crushed and recycled into new asphalt annually in the U.S. — nearly double the combined total of recycled paper, glass, aluminum and plastics. And Wolf Paving is leading the charge by recycling 100% of the asphalt it removes from job sites.
Wolf Paving recycles the following materials:
Waste oil
Old concrete
Asphalt shingles
Old asphalt
By recycling these materials to manufacture new blacktop pavements and base materials, Wolf Paving is able to ensure these items will not end up landfills. Instead, they are used to build stronger, longer-lasting commercial and residential pavements.
In addition to construction materials, used oil from vehicles, machines and construction equipment helps fuel the production burners at Wolf Paving's asphalt plants.
Wolf Paving also accepts asphalt and old concrete removed by other contractors for recycling — thereby decreasing the need to degrade the landscape in search of precious natural resources.
The Environmentally Friendly Difference
The innovative recycling procedures used by Wolf Paving turn these cast-off materials into the highest quality blacktop available. Wolf Paving has developed more than 20 custom asphalt mix formulas to meet a broad range of project types, so you get the best mix every time.
The beauty of your project is just as important as protecting the beauty of our natural resources. With Wolf Paving, you get the best of both worlds.
Recycled Asphalt Paving Resources
Get more in-depth information on how recycled asphalt can be used to build stronger driveways, roads, and parking lots and how green infrastructure can benefit property owners by reading our many resources:
Porous Asphalt Paving
Porous pavement allows water to flow through it rather than shedding water, reducing water runoff and returning water naturally to the water table. Porous paving is an eco-friendly solution, and an investment worth looking into.
Learn more about porous asphalt paving and if it's right for your paving project by reading through our many porous asphalt resources: