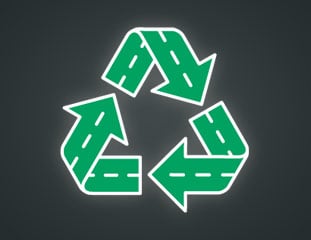 Lots of Americans care about being "green." They are increasing their efforts to be eco-friendly when it comes to eating, working, and daily living. This is true in Madison and Milwaukee, too!
When you think about going green, do you think much about recycled asphalt paving? Probably not. But we do! We understand that eco-friendly paving solutions are important to our customers and important to our environmental goals as a company.
Many people don't realize that asphalt roads and materials are one of the most recycled products in America! At Wolf Paving, we seize every opportunity to reuse and recycle materials from our paving jobs.
Leading the Way with Asphalt Recycling
At Wolf Paving, recycled materials play a key role in crafting environmentally-friendly custom asphalt solutions. Eco-friendly road materials and eco-friendly procedures allow us to protect our natural world while giving our customers what they want when it comes to sustainable asphalt.
About 90 million tons of old asphalt pavement are crushed and recycled into new asphalt annually in the U.S. — nearly double the combined total of recycled paper, glass, aluminum, and plastics. And Wolf Paving is leading the charge by recycling 100% of the asphalt it removes from job sites.
Our Partnership with Badger Materials Recycling Creates a More Environmentally Friendly Process
We are proud to partner with Badger Materials Recycling in order to provide additional recycling connections for all of our projects.
Wolf Paving recycles the following materials:
Through our partnership with Badger Materials Recycling, we also recycle:
Clean wood* (unpainted, unvarnished, and untreated)
Asphalt shingles (wood, clay, or other shingles are not accepted)
*Clean wood is not used in paving. It is used for animal bedding and landscape.

Additional asphalt shingle recycling locations are available through our sister company, Rock RoadTM.

By recycling these materials to manufacture quality blacktop pavements and base materials, Wolf Paving and Badger Materials Recycling are able to ensure these items will not end up in landfills. Instead, they are used to build stronger, longer-lasting commercial and residential pavements.
Our Eco-Friendly Philosophy Extends Beyond Using Recycled Construction Materials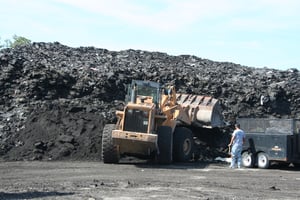 The asphalt landscape we create is built on the philosophy of green asphalt and asphalt recycling.
Our customers asked: are asphalt millings bad for the environment? We can confidently share that our asphalt roads and materials are designed and built with green goals guiding us every step of the way.
Wolf Paving also accepts asphalt and old concrete removed by other contractors for recycling — thereby decreasing the need to degrade the landscape in search of precious natural resources. These innovative approaches to asphalt recycling solutions and asphalt pavement solutions allow our customers to shop with confidence.
The Environmentally Friendly Difference
The innovative recycling procedures used by Wolf Paving turn these cast-off materials into the highest quality blacktop available. Wolf Paving has developed more than 20 custom asphalt mix designs to meet a broad range of project types, so you get the best mix every time.
The beauty of your project is just as important as protecting the beauty of our natural resources. With Wolf Paving, you get the best of both worlds.
When someone is planning a paving project in Madison or Milwaukee, Wolf Paving offers eco-friendly asphalt solutions and eco-friendly materials.
Recycled Asphalt Paving Resources
Get more in-depth information on how recycled asphalt can be used to build stronger driveways, roads, and parking lots and how green infrastructure can benefit property owners by reading our many resources: