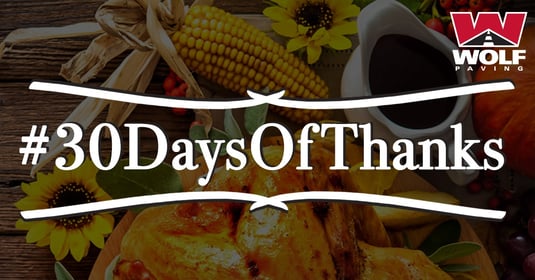 Every year, our family of employees at Wolf Paving takes the month of November to reflect on a year of hard work and community building. As the weather cools down and we pull our paving trucks in for Winter maintenance, we are thankful for the opportunities to work with great Wisconsin families, businesses and municipalities alike.
To show our gratitude, we make a point of highlighting our talented employees, our great customers and our wonderful industry leaders with #30DaysOfThanks. Follow the hashtag on our Facebook and Twitter pages and help us say 'thank you' to all of the wonderful people in the asphalt paving community.
Thank You Wolf Paving Family
Since 1941, we have had an exceptional team of decided professionals providing asphalt-paving services to the Milwaukee, Waukesha and Madison areas. Our staff is like our family, and we appreciate their hard work and dedication. Thank you all!
Thank You Old and New Customers
With more than 75 years of experience in the paving industry, we've helped individuals and businesses improve curb appeal and safety with new asphalt installation. Sometimes our loyal customers move to new homes or businesses, and it is always great to see them come back to Wolf Paving for asphalt repair or maintenance. We appreciate your loyalty! We also want to welcome new customers to the Wolf Paving family as well. Our team values building the infrastructure of our local community; we are thankful that you trust us with your paving projects and allow us to help the community grow and flourish.
Thank You To the Wisconsin Asphalt Paving Industry
It's amazing to think of the evolution of the paving industry in Wisconsin over the years. We are lucky to have wonderful magazines, trade publications and industry professionals in the Badger State, and we are proud to be listed alongside some tremendous organizations in the industry. Thank you for all of your hard work and dedication to the paving industry, and for helping build Wisconsin driveways, roads and highways from the ground up!
Request A Free Asphalt Paving Estimate
At Wolf Paving, we own the materials and plants, which allows us to control the entire process and provide customers with the highest quality custom asphalt mixes to meet every specific paving need.
With more than 75 years of asphalt paving experience, from highways to commercial driveways, we are your local source for all of your asphalt paving needs.
Request an estimate and get on our list for upcoming projects! Call Wolf Paving today. For the Milwaukee area, call us at 262-965-2121. For the Madison area, call us at 608-249-7931.