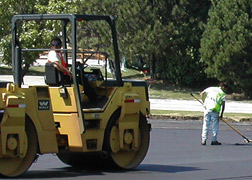 Asphalt pavement is important for many reasons. In previous blog posts, we have discussed various tips and the benefits of different asphalt paving solutions, as well as how to maintain your asphalt with sealcoating and crack sealer. Here are some more interesting facts about asphalt that are worth taking note of:
Versatility – Because of its strength and flexibility, asphalt can be used for driveways, highways, parking lots and even for track beds that provide a safe base for high-speed passenger trains or heavy shipments. Asphalt pavement is also used worldwide as a solution for water storage, flood control and erosion.
Safety – The smoothness of asphalt pavement gives vehicle tires superior contact with the road. Open-graded asphalt allows water to drain through the surface and off to the sides, reducing the amount of splash made from vehicles.
Noise Reduction – Simply put, asphalt is quiet pavement. Traffic volume is reduced by 50%, or 3 decibels when using asphalt paving.
Sustainability – Asphalt pavements are America's most recycled product. The asphalt is able to be reused/renewed, which reduces the cost on highways and the need for new materials.
Longevity – When asphalt pavements are maintained properly, with yearly crack sealing and sealcoating every 2-3 years, the life of the asphalt parking lot, driveway or highway will increase.
For your next commercial or residential paving project, consider asphalt pavement and take advantage of the many benefits it offers. For more information or for a free quote, contact the professionals at Wolf Paving.
###
Wolf Paving, an asphalt manufacturer and asphalt paving contractor has been proudly serving the greater Milwaukee and Madison area since 1941.