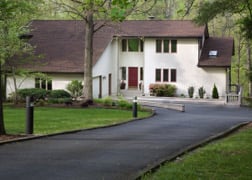 The majority of commercial and residential driveways are finished with either asphalt or concrete. Both are cost-effective, but asphalt comes with more benefits. If you're paving a new driveway or refinishing an existing one you're probably wondering about the relative benefits of asphalt over concrete.
Asphalt Offers Both Installation Speed and Fast Usability
An asphalt driveway can usually be laid in one or two days, depending on the size of the project. Concrete, on the other hand, typically takes twice as long to lay and even longer to set. Depending on the season, asphalt driveways can be ready for use in as little as two days after completion, whereas concrete can take up to a week to cure.
Asphalt Offers Driveway Durability
Unlike concrete, asphalt is not subject to surface flaking caused by poor installation, incorrect preparations of the mixture and the application of salts to melt ice and snow. Known as 'spalling,' this surface flaking is an ongoing problem with many concrete driveways, especially those that were hastily installed. Given its flexibility, asphalt is also considerably less likely than pavement to crack over time.
Asphalt Pavement Offers Lower Maintenance Costs
If your asphalt driveway does start to show some lineal cracking, you can repair these easily and inexpensively. The crack sealant products you need are widely available through home improvement retailers, don't cost very much and can easily be applied on your own, even if you have absolutely no previous paving expertise.
In addition, regular preventative maintenance, like crack filling, sealcoating, sweeping and general upkeep, can extend the lifespan of your asphalt driveway to 20 years or more. Concrete is more difficult to maintain, because it cannot be heated and repaired with the same ease as asphalt pavement.
Asphalt Pavement Offers Additional Benefits
An additional benefit of asphalt is that its black color helps draw and retain more of the sun's heat. In the winter, this means that snow will melt faster on an asphalt driveway than it will on a concrete driveway. Not only does improve safety in residential settings and at commercial business properties, this makes property maintenance easier for everyone!
If you have any questions about the benefits of asphalt paving or are interested in a free paving estimate, please contact us today!
With 75 years of asphalt paving experience, from highways to driveways, we are your local source for all of your asphalt paving needs. Wolf Paving offers professional paving services from Milwaukee to Madison, and everywhere in between, including all areas around: Sun Prairie, Oconomowoc and Waukesha.
It's never too early or too late to request a free paving estimate. Call Wolf Paving today. For the Milwaukee area, call us at 262-965-2121. For the Madison area, call us at 608-249-7931.