Asphalt pavement traces its history back to prehistoric times. Its earliest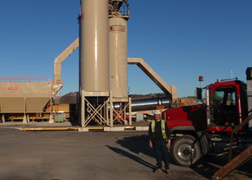 confirmed usage as a road material is dated at 625 BC, when the Babylonians used it to pave the route leading from King Naboppolassar's opulent palace to city's northern wall. It was also used by the ancient Greeks and Romans for various construction and engineering applications, and was revived in Europe in the 18th century, when a rapidly modernizing world was in need of infrastructure improvements.
Types of Asphalt Pavement
Today, asphalt pavement is widely used throughout the developed world due to its combination of versatility, durability and cost effectiveness. There are two major types of pavement: flexible and rigid. Flexible pavement has a bituminous composition, and draws its name from its pliability and relative softness. Rigid pavement has a cement concrete base and has a much harder finish. Asphalt falls into the flexible pavement category.
The exact characteristics of a given asphalt material is primarily dependent on its mix characteristics. Numerous mix compositions are used in construction, yielding the following major pavement types:
Perpetual. Drawing on multi-layer engineering technologies, perpetual pavement is safe, smooth and durable, offering excellent vehicle support and ease of repair and maintenance.
Porous. Favored in applications which require drainage, porous pavement allows water to filter through it on its way back into the ground.
Quiet. When noise reduction is desirable, various stone-matrix and graded friction course mixes are used. These are collectively known as "quiet pavement" types.
Wolf Paving is a leading provider of asphalt construction in the Milwaukee and Madison areas. Established in 1941, the company combines extensive experience with cutting-edge technologies for superb results. If you have a residential or commercial paving project on the horizon, contact us to arrange an expert consultation.