The driveway tends to be the first thing seen when arriving to a home. For this very reason, having a nice looking driveway is important. This is something Buck Houston understood when considering having his 200-foot long driveway repaved and expanded.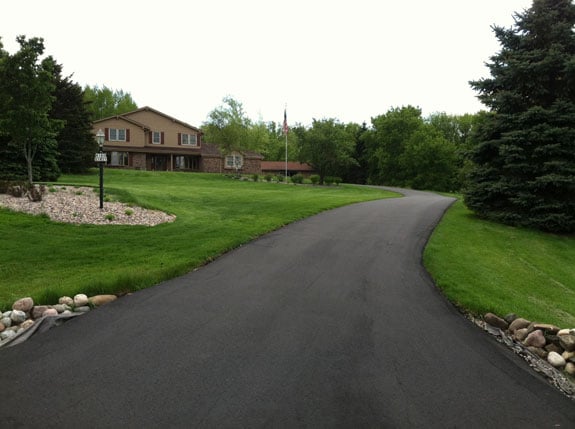 The process began by looking into three different companies for quotes. Buck chose Wolf Paving because the price was fair and because of Wolf Paving's salesman, Jim May.
According to Buck Houston, "He [Jim] came out and took measurements. We talked about the various things I wanted done and he even offered suggestions. Jim was significantly more involved and more knowledgeable."
Houston also praised the communication throughout the paving project. "They told me when they'd expect to have it done. They came out two weeks ahead of time and prepared the site. The people that came out were unbelievable. The foreman on the job explained everything he was doing. Those guys were just fabulous! When the crew came two weeks later, I was there all the time so they told me what they were doing."
Because of the size of the driveway, Buck was concerned about water drainage. Wolf Paving guaranteed their work and told Buck that they were willing to come back to fix any problems, should they arise, but "the water drains beautifully and there were no low spots."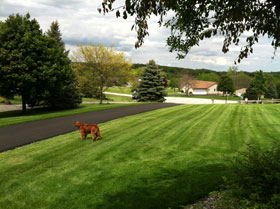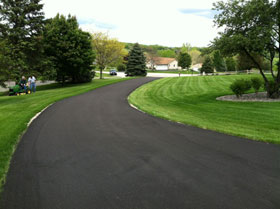 Throughout the whole project, Buck was educated in the paving process. Wolf Paving informed Buck about the asphalt paving process while asking and answering the right questions about the project.
"I couldn't recommend them highly enough. It was a good feeling knowing I was going to get a good job. It looks beautiful" said Buck of the completed project.
Wolf Paving offers a variety of paving services, including residential and commercial paving, such as business or private parking lots and driveways.
If you are interested in having your driveway or parking lot repaved or seal coated, or would like more information, call the experts at Wolf Paving or request a quote.