Dirk Debbink and his wife take pride in how their home looks. This is evident by the
asphalt paving
and landscaping project that was recently completed. The house was bought in December of 2010, and went through a really extensive remodeling of the house. The last part of this project was the landscaping and driveway.
"We wanted to have the driveway actually be part of the entire architectural work we were going to do to get everything how we wanted it to look. It wasn't just going to be a regular driveway," says Dirk Debbink of the project. "It was going to be a special driveway."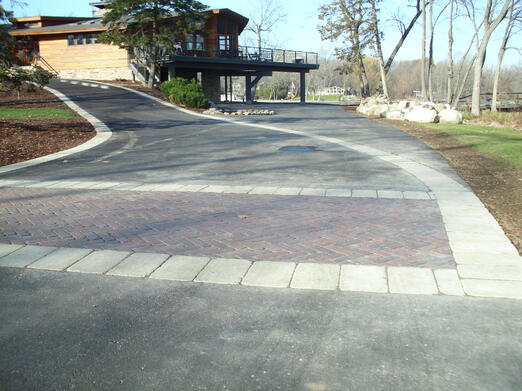 The Debbink's were looking for a job that not only looked good but would also last. This led them to contact Wolf Paving, where they worked with Jim May, who put together a proposal for the project. The project was more than just asphalt paving. There were also unilock pavers that the landscape artists came up. Jim was asked to put together a complete proposal, which included both the landscaping and paving projects. So, he teamed up with the landscaper and coordinated the projects, having a single source responsibility. "That was really important to me. They worked really well together," Dirk said of the coordination.
And so, the project began. "It was fun watching Wolf Paving execute the project. There was a lot of coordination that went into it."
The old driveway was removed and the base was graded and leveled, preparing it for the arrival of the landscaping, and then in came the paving crew from Wolf Paving. "I was impressed with what it takes to pave a project like this. I think it was a dozen or more trucks, which also had to do with the load limit on the bridge."
The Debbink's have known of Wolf Paving for many years. "Wolf Paving is the company to go to. They do a great job. Their plants are out here. They have a great reputation and have been around for many years. I'd absolutely refer them, and I do refer them. We're very happy with the way [the project] came out."
"The coordination between the sales teams, Jim May, and the sub groups, Geno, and the pavers and Conrad, it was fun to watch them all together. And the glue that held them all together was Jim May. Great job."