A bottle of shampoo, a toothbrush and a new pair of socks might not seem like much. But when you're living through tough times, simple things can make all the difference.
That's why, when Wolf Paving team members recently packed backpacks with personal care items for women, men and teens in need around Milwaukee and Madison, we brought as much care to the volunteer work as we do to any paving project.
Working with United Way of Greater Milwaukee & Waukesha County, we packed 120 backpacks, each with about $20 worth of various personal care items. These packs went to four worthy organizations:
La Casa de Esperanza, which helps educate and empower people with an emphasis on the Hispanic community
NAMI Waukesha, which supports people and families impacted by mental health conditions
Waukesha Free Clinic, which provides free medical services
Lutheran Social Services: Spring City Corner Clubhouse, which provides life-skills support for people with mental illnesses
Our hometowns mean the world to us, and we're grateful to be able to support United Way's crucial work strengthening our communities!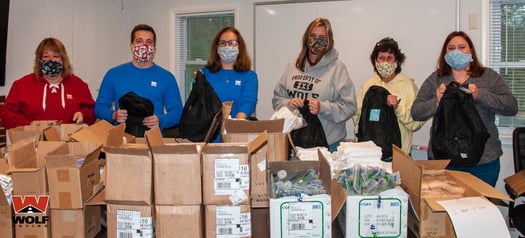 Learn more about how you can help United Way here.