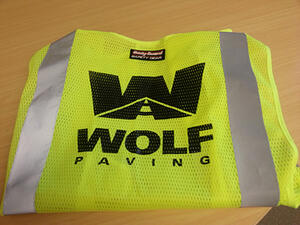 Frequent reports of distracted driving incidents and injuries occurring in work zones have become an increasing concern among Wisconsin residents.
Safety awareness is especially critical in the summer months with the increase in roadway construction and workers positioned along various high-traffic sites.
According to the Federal Highway Adminstration, in Wisconsin there are:
More than

5,748,000 vehicle crashes each year.

The majority of car accidents that result in injury and property damage happen in clear conditions, June through August.
With nearly 2,000 construction accidents occurring along Wisconsin roadways, parking lots and driveways annually, Wolf Paving has made a commitment to not only build safe roads, but also safe communities through a new downloadable summer roadway safety toolkit for individuals and families.

"Workplace safety is our number one focus for workers and pedestrians both in our construction zones and after projects are complete, " said Sean Wolf "We are committed to continually decreasing incidents and educating the communities we serve on how to best keep themselves and their families safe while driving and enjoying outdoor activities."
Roadway safety education can be an important first step toward keeping drivers, children and roadway workers safe. Wolf Paving's roadway safety toolkit provides the necessary tips and resources to save lives on Wisconsin roads this summer.
Click here: Download FREE Summer Roadway Safety Toolkit
With more than 75 years of asphalt paving experience, from highways to driveways, we are your local source for all of your asphalt paving needs.
For more information on Wolf Paving or to request a free estimate for your next paving project contact one of our two offices. If you live or work in the Milwaukee area, call us at 262-965-2121. For the Madison area, call us at 608-249-7931.