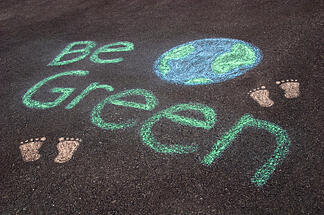 With global climate change in the media on a daily basis, green building practices and green construction are in high demand. This practice permeates all aspects of building and construction, from residential to commercial ventures, building to remodeling--and even landscaping and paving. As a business owner, you may be looking for ways that you can make your business a greener, more socially responsible establishment.
Green asphalt pavement and green asphalt repair is one way that you can accomplish this goal. As you'll see, green asphalt is not only socially and environmentally responsible; it's also fiscally sensible and good for your bottom line.
Perpetual Pavement
One way that many business owners seek to make their asphalt more environmentally responsible is by paving with "perpetual pavement." This durable process lasts much longer than traditional paving methods, resulting in less maintenance and less waste. Perpetual pavement is made from many layers--some of which are made from recycled materials--so that when the pavement finally wears out, only the top layer must be replaced. ...and it will take a long time for the pavement to wear out. Perpetual pavement may last as long as 20 years with the lower layers lasting much longer, reducing the need for expensive routine repairs and saving business owners money and time.
Another way in which asphalt can save clients money is through "pulverization," the process by which old pavement can be broken up into small pieces and used as an under-layer for new pavement. Pulverization is less expensive than removing old pavement altogether and replaces new aggregates needed for base material. It's also more environmentally friendly because it repurposes the old, existing paved surface.
Porous Asphalt
Porous asphalt allows water from precipitation to penetrate the surface of the asphalt and soak into the ground below. This type of asphalt maintains the earth's natural water cycles, reduces water run-off and replenishes ground water supplies. Porous asphalt can be made from recycled materials, like perpetual asphalt.
Warm & Cold Mix Asphalt
This type of asphalt mix is laid on the road at lower temperatures, which in turn reduces the production of greenhouse gasses and fuel consumption. While the environmental benefits of warm mix asphalt are clear, many business owners enjoy other advantages. For example, the lowered temperature required to lay this asphalt can extend the paving season dramatically in colder northern climates.
How To Go Green
With more than 18 billion tons of asphalt pavement in place on American roads and highways, sustainable practices are essential for our environment and economic future. Business owners seeking eco-friendly ways to repair or replace their asphalt should work with a reputable company that uses recycled asphalt and base materials. Contact the experts at Wolf Paving for a consultation and quote.
What are some of your biggest environmental concerns for your next asphalt repair and re-pave project?
Download our FREE brochure on the differences between permeable and porous asphalt here.