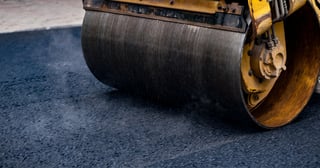 The following guest blog is written by Kris Lindahl, a Twin Cities real estate expert and founder of The Kris Lindahl Team.
When you are planning a significant paving project for a commercial space, you should research several paving companies to decide which one will provide you with the best work and service. Ask these five questions to get a sense for the company's ability to handle your project, and ensure a solid result.
1. Do You Have Any References?
For any project of this size, it is important to confirm that the businesses you are considering are up to the task. You want to hire a company that has been in business for several years, with a list of successful commercial projects that they can show you with pride. Ask for references, and follow up on them. If possible, visit one or two sites where the company completed the paving, and inspect it to see how it is holding up over time.
2. Do You Have Experience With Commercial Projects?
Many paving companies will offer residential and commercial services, but you should make sure that the business in question is experienced with the scope and quality differences between a small paving job for a home and a parking lot for a shopping center you've invested in. The size of the staff is also important. A business that functions with too few members to the crew will take considerably longer, especially if you have a bigger project. Whether the goal is to attract customers or attract tenants, you'll want to have a good job done the first time around.
3. Can You Meet my Project Requirements?
An experienced paving company will go with you to the site to consult, talk to you about your needs and help you formulate a plan to pave it safely and professionally. There are different combinations of asphalt that are used for unique purposes. You need the right combination to ensure a solid paving surface that is less likely to crack over time. The best paving company will be able to handle virtually any surface, and provide paving that will stand up to traffic and meet state guidelines.
4. How Will You Ensure the Project Is Completed Properly?
Throughout the entire process, you need to know that the project management is always carefully in hand. Ask your paving company how they confirm that all safety standards and local requirements for the paving of commercial spaces are met. Ask them to provide proof that they are insured, and appropriately licensed. If the company relies on any subcontractors, inquire about the vetting process for companies or contractors to which they subcontract certain services.
5. Does the Company Handle Repairs?
Any reliable paving company will stand by the project with a warranty of some sort. Request the specific details of the warranty, should you have any problems once the job is complete. After the warranty period, you may need to have periodic repairs or maintenance to the surface over time. Ask the company how they distinguish between the need to repair or replace, to get a sense for their ability to provide you with the service you need. Find out whether or not they can complete specific kinds of repairs or maintenance, such as patching, pothole repair or sealcoating. This way, you do not have to seek out another business to do your maintenance and repairs a few years down the road.
Hiring a quality paving company is vital for your commercial project. As you start to get quotes from different businesses, ask these five questions. With the answers, you can determine which company is most likely to meet your expectations.