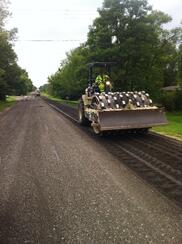 Foam asphalt injection is a technique that is used widely in Europe, but has been seldom used in the UnitedStates. Typically reserved for roadways, this process offers many benefits over traditional techniques, including deeper road stabilization, up to 14 inches, and the ability for roads to open faster to traffic.
The process refers to liquid asphalt oil that is foamed into the form of bubbles and used to rehabilitate pavement as a stabilization agent. Wolf Paving completed the first foam asphalt injection project in Waukesha County in partnership with Tri-County Paving.
With any new paving technique, you may have questions about the process steps, critical factors for success and the full list of benefits this new technique can offer. To help answer your questions, we put together a presentation that can help you determine if foamed asphalt injection is the right choice for your next paving project.
Take a look at our Slide Show below.
Does foam asphalt injection sound like the right choice for your next roadway project?
For more information on Wolf Paving products and services for contractors or to request a detailed quote for your next municipal paving project contact one of our two offices. If you live or work in the Milwaukee area, call us at 262-965-2121. For the Madison area, call us at 608-249-7931. We have been in business for more than 70 years.