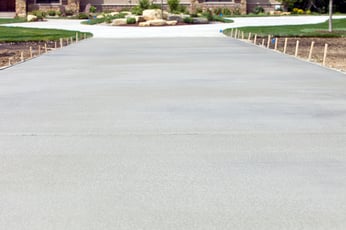 If you're in the market for a new concrete driveway or parking lot you've likely been dreading the process of finding a trustworthy, reasonably priced concrete contractor.
Most people will tell you to look local, and for good reason. It's best to find a contractor that has experience working locally as they will have more knowledge with your particular climate, soil type and even with your local tree and plant populations. As you search for the best local concrete contractor, use these tips and questions to find the perfect match for your concrete paving project!
Before Hiring Any Concrete Contractors, Do Your Research
To make an informed decision and to feel good about your contractor choice, a little preliminary research is required. Start with the easiest step, ask the people around you.
Neighbors, coworkers, and friends are probably your best, and most trustworthy, resource to find a reliable local concrete contractor. Although the exact nature of the contract work may be different, you'll still be able to ask about the quality of work, if the contractor stuck to their predicted time frame, and if the cost was fair.
After you've asked around and done a little online searching, start reaching out to contractors for quotes. Before making a decision, be sure to get a least three different quotes from prospective contractors. But keep in mind that the lowest quote isn't always the best. If you end up picking a cheap contractor who cuts corners, your concrete pavement won't last, and you'll need to do repairs more often leading to more expenses in the near future.
Don't be afraid to ask your potential contractor lots of questions.
Questions To Ask Your Concrete Contractor:
What are your certifications?
How soon can you start my project?
How busy is your schedule?
Can you provide references?
Do you have pictures of jobs you've completed similar to mine?
Does your estimate include material costs or just labor?
6 Things to Look For in a Concrete Contractor
Whether your paving project is for a concrete driveway or sidewalk there are certain factors you should always look into before hiring a concrete contractor.
1. Competitive Pricing - How do you know if the estimated price is a fair one? Consider the following job elements:
Quality/quantity of equipment used in a job
The type of concrete mixture
The complexity of the project area
Municipal ordinances
Removal of existing surfaces
Environmental factors
As the list above illustrates, there are a number of factors that will determine the resources and time required for your unique project. After an initial estimate, your contractor should go into detail about any questions or concerns you might have.
2. Reviews - Look for a concrete contracting service that shares customer reviews. Not finding anything on a company website or social media? Look up the Better Business Bureau rating or ask the contractor if they have any recent references you can contact. Finding reviews from local customers is best.
Sometimes, paving contractors will include case studies on their website so you can get a full break down of projects that may be similar to what you have in mind.
3. Experience and Project History - For obvious reasons, most people prefer an experienced pavement contractor. If you can, take a look through business and project history.
4. Licensing and Insurance - A reputable concrete paving contractor should be able to provide documentation showing that they are licensed and insured. This documentation not only provides protection for their representatives and equipment, but it also provides protection for you and your property as well.
5. Good Warranty - Always ask for a project warrant, for both workmanship and the materials used in the project. This will guarantee that the project is completed to industry standards and that they met all the job requirements agreed upon. Many companies have different warranties, be sure to always get the details in writing before your project is started.
6. Providing Green Solutions - Does the contracting service responsibly remove and reuse materials removed from job sites? At Wolf Paving, we recycle as many materials as possible, from both our jobs and materials brought in from other contractors. You can learn more about the concrete recycling process in this blog.
After you've taken time to learn about concrete contractors, learn about the
concrete installation process or visit our concrete 101 page.
Wolf Paving is locally owned and operated, and like you, we want the best for the areas we live in. We also own our own manufacturing plants, meaning we control all the raw materials used in our work and can guarantee the best pavement mix for your job.
We pride ourselves on flexibility and direct communication. From scheduling to walking you through each step of the process, Wolf Paving takes the time to ensure your complete satisfaction. Our contractors keep your busy schedule in mind causing as little inconvenience as possible.
Wolf Paving offers professional paving services from Milwaukee to Madison, and everywhere in between, including all areas around Sun Prairie, Oconomowoc, and Waukesha.
Request a free paving estimate or call Wolf Paving today! For the Milwaukee area, call us at 262-965-2121. For the Madison area, call us at 608-249-7931.