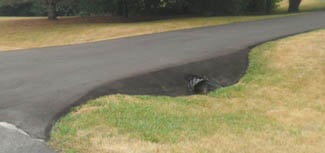 In both residential and commercial paving projects, there are cases where paving over a culvert takes place. A culvert is a structure that allows water to flow under a road, railroad, or driveway. Culverts may be used to form a bridge-like structure to carry traffic, and come in many sizes and shapes including round, elliptical, flat-bottomed, pear-shaped, and box-like constructions.
If there is a culvert at the end of your driveway or parking lot, continuous traffic can cause damage to and wear out the pavement over the top of the culvert. As not to cause any damage to the culvert, Wolf Paving uses a special process to repair the pavement.

The Repair Process

To start, both ends of the apron approach area are saw cut and the old asphalt is peeled back with a skid steer. The old asphalt is recycled at Wolf Paving, and is then used in a new asphalt mix. If the old culvert pipe is damaged and cannot be reused, it is also recycled at Wolf Paving.

Oftentimes, it is not until the old asphalt has been removed and the gravel spread to the side, that the condition of the old pipe can be determined. In most cases, if the pavement is heaved, or bumpy, the culvert will need to be removed and replaced.

Next, when replacing the culvert, a proper bed of crushed stone base needs to be set. The culvert is then placed on top of the stone bed and the sides are packed with crushed stone to ensure proper placement. Often culverts are placed in dirt or inferior gravel material which can cause future problems.

Flares that open up the ends of the pipe are attached following the placement of the culvert. This allows hand packing of gravel and asphalt to taper down to the ditch line. It also helps with wash-out from storms and weed growth.

Once the culvert is set, normal paving can take place atop, starting with the stone base and followed by the layers of asphalt. If a culvert is improperly set, heaving into a bump will occur. However, previous installation issues will not have an affect on a newly set culvert if the proper equipment, materials and installation methods are used for repairs or replacement.

The Equipment Used

Placing culverts requires the use of road graders, saws, skid steers, backhoes, and even large track backhoes. Much of the installation and repair work, to achieve a proper finish, is done by hand. Compaction is done by using vibratory rollers and plate compactors. It is recommended that a galvanized steel pipe be used for a culvert, rather than a PVC unit.

Is the asphalt pavement above your parking lot or driveway's culvert in good condition? Contact Wolf Paving with questions or to have an expert estimator inspect your property.