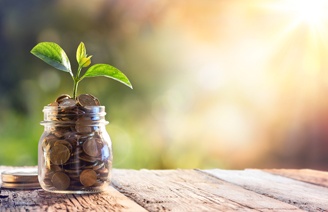 No aspect of your business is too small to overlook, especially when it comes to saving money.
If your parking lot could provide you with a high return on investment, years of durability, potential grants or tax breaks, and help the environment at the same time, wouldn't you pursue that opportunity?

At Wolf Paving, we have an cost-saving, environmentally friendly solution for your new parking lot that could save you money in the long run. Take a look at your parking lot, are you getting as much out of it as you could? If not, consider the benefits of green infrastructure and porous asphalt.


What is Green Infrastructure?
Green infrastructure is any natural processes used on a property to manage water and create healthier environments.


Why Choosing Green Infrastructure Will Save You Money
The City of Milwaukee has a Stormwater Management Charge that was put into effect in 2013 and is set to last until 2023. The point of this charge is "to offset the costs needed to manage and reduce the amount of polluted stormwater runoff entering Milwaukee's storm sewers and waterways." Milwaukee, along with many other local governments all over Wisconsin, charge developers stormwater impact fees due to water runoff which can overwhelm sewer systems and cause other local problems.

However, commercial property owners can obtain quarterly credit, meaning they don't pay as much, by going green and reducing the amount of runoff. Here's the main point you need to know as a business owner:
Any non-residential property owner may receive credit by voluntarily investing in green infrastructure on their property. The city will then calculate the credit based on total gallons of stormwater managed.
Milwaukee's Department of Public Works suggested four main strategies for developing green infrastructure: having a green roof, porous paving, bioswale, or a wet detention pond. Not all business have the space or funds to build ponds or a green roof. However, most business have parking lots that could be installed using porous asphalt.

Interested in more information about getting started with green infrastructure?
You can learn more from the City Of Milwaukee Stormwater Management Charge Green Infrastructure Credit Calculation Worksheet here
The Benefits of Choosing Green Infrastructure for Parking Lots
As a business owner, there are many benefits to choosing green asphalt for your next project. Green infrastructure can:


Improve quality of waterways
Reduce surface flooding
Reduce basement backups and sewer overflows
Provide you with a tax break
Porous Paving Offers Cost Savings for Your Business
Porous asphalt has been recommended by many local municipalities as a way to achieve green infrastructure. But what makes porous asphalt unique?

Porous asphalt contains less finely crushed filler, which creates narrow pathways for rainfall and snowmelt. This allows water to drain through the asphalt and into the stone bed below, which is designed to make sure the water level under the ground never rises back up into the asphalt. From there, the water works itself into the soil where it's purified the way nature intended. Thereby earning you credit towards your stormwater impact fees.
How Does Porous Paving Asphalt Improve Safety?
In addition to providing cost savings and environmental benefits, green asphalt can also improve safety by improving water runoff management.

A fast-draining parking lot surface means you run less of a risk of hydroplaning in your car or bike. Hydroplaning occurs when a layer of water builds up between tires and the pavement surface, causing a loss of traction. Porous paving can prevent a simple slip and fall or even a car crash from happening on your property.


Porous Asphalt Is Easy to Install and Can Boost Property Value
You may be wondering if choosing porous asphalt has any effect on the installation process. As experts in porous paving installation, our team at Wolf Paving can confirm that installation doesn't require additional equipment or specialized skill. Nor does it need any special ingredients to be manufactured at our asphalt plants. It's as easily made and installed as a standard asphalt pavement. Basically, if you were getting an asphalt driveway or parking lot anyway, you could upgrade to porous asphalt and have it look the same without losing extra time for the installation.

With the potential grant money and tax breaks associated with choosing green infrastructure solutions, you may also see costs savings by choosing porous.

As if that wasn't enough, porous asphalt can last up to twenty years before it starts showing cracks or potholes. Which means you now have a beautiful, functional, environmentally friendly tax break which may last you more than two decades. Even if for some reason down the line you decide to leave your property, the porous asphalt will still benefit you.
A 2013 study conducted by UW-Milwaukee has shown that green infrastructure boosts property value. Moreover, the value of properties went up considerably the more prone to flooding an area was.
Find out if porous asphalt is right for your business by requesting a free paving estimate now
In closing, here are four simple reasons why you should choose to go green with your parking lot:
It saves money
It's environmentally friendly
It's durable
It's no additional hassle
Your business reflects you. It's a lot of work and there are a lot of details to consider. By choosing porous asphalt you get a mile of benefits for every inch you pave. Ask your state legislator about further tax breaks offered by going green.