It may look black, but asphalt pavement is turning green. Porous asphalt is increasingly the choice of businesses, cities, agencies and homeowners striving for environmental sustainability and durability of paved areas.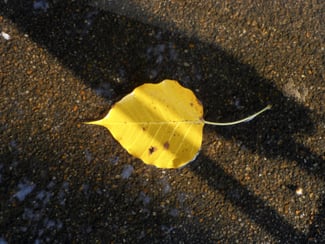 You'll find this permeable product in a wide range of areas, including:



National Geographic notes that porous asphalt winds past Lake George in the Adirondack Mountains. By diverting roadway runoff into underground aquifers, porous pavement helps to decrease salt accumulation in the lake.
But exactly what is this material and how does it work?
Structure of Porous Asphalt Paving

Less is more in porous pavement, which contains less finely crushed filler between its aggregate than in regular asphalt. This creates narrow pathways for rainfall and snowmelt to travel downward into the soil.

Porous paving is an ecofriendly solution to problems such as roadside erosion as well as heavy runoff, which overwhelms sewer systems and causes road-top pollutants -- such as auto fluids and chemical spills -- to travel into waterways.


Imagine holding a thick chunk of the material. It looks somewhat like a chocolaty popcorn-ball with rocks held together by petroleum-based asphalt binder. Pouring a stream of water on the chunk, you would see moisture trickle through the material instead of pouring over the sides.


In a parking lot, driveway or road constructed of porous asphalt, moisture would:

Percolate through the road top

Travel into underlying rock and gravel courses

Filter through permeable fabric aimed at keeping underlying soil from moving upward and clogging the aggregate's permeability and

Finally, help replenish groundwater.
Environmental and Financial Sustainability

Eco friendliness isn't new to the asphalt paving industry, because blacktop has long been one of our nation's top recycled materials. Porous pavement often contains repurposed asphalt.
A survey of the pavement industry by the Federal Highway Administration and the National Asphalt Pavement Association (NAPA) shows that in 2013, more than 99 percent of asphalt reclaimed from paving projects was averted from landfills through recycling for use in new and reconstructed roadways.
This reuse of materials saves natural resources and decreases the cost of asphalt paving. Another aspect of its financial sustainability -- whether porous or a traditional impermeable mix -- is the fact that road underlayment usually doesn't need to be rebuilt when surfaces are reconstructed. As to wear and tear, the surfaces hold up for decades, based on ones in Philadelphia where porous pavement was first installed.
Safe, Smooth, Quiet Pavement

Safety is another reason for the growing popularity of porous asphalt. Whether driving, bicycling or walking on one of these well-drained surfaces, you have less risk of hydroplaning, sliding or taking a tumble. When used on roads, porous pavement is a smooth, quiet material.

At Wolf Paving we pride ourselves on providing you with paving that is as safe, pleasing and environmentally conscious as possible. Please contact us; send a message via our website or call today. We're here to make your life smoother.