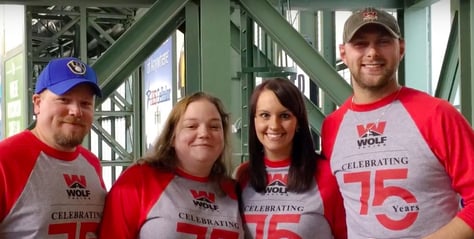 Committing to a career is a big decision. While you're exploring what your future may hold, we encourage you to try one of Wolf Paving's paid internships on for size!
Wolf Paving offers a wide range of internships and apprenticeships from fieldwork to office support and everything in-between. All of our internships at Wolf Paving offer a paycheck, advancement opportunities, and hands-on, practical experience.
If you're trying to determine if an internship at Wolf Paving is the right choice for you, consider the following:
1. All of Our Internships Are Paid.
Your time and the work you do is valuable. Therefore all of our internship positions are paid. At Wolf Paving, we understand that every member of our team is crucial; from those laying the asphalt to those in the office, as well as our interns.
"I feel like I'm equal to full-time employees. They don't treat me like I'm an intern just there to grab them coffee or something. I'm really given full responsibility." - Courtney, Accounting Intern
2. Paid Internships Are Available in Any Area of Our Business.
We've had everything from project manager interns, to grading assistants, to accounting interns. No matter what part of the business you're interested in, whether it be human resources, paving, or bidding, we could always use some extra help!
Contact us today to see what's available!
3. You Will Always Have a Team to Fall Back On
You won't know everything about your position and our business right away, or even maybe a month into your internship. And that's okay! You're here to learn. We will always encourage questions and honesty, as well as ongoing feedback about what you're comfortable working on.
We want to give you real-world experience and our goal is to provide you with real-world work and assignments. No matter your task, you will be a part of a team that is there to guide you and make sure you are being challenged enough to stay interested without feeling overwhelmed.
"[My mentors] check-in with me, they see where I'm at with different projects. And I get a lot of verbal reassurance and they've said a lot of great things to me. And it feels good to be recognized for what you're doing!" - Courtney, Accounting Intern

"After I declared my minor in construction management, I began classes that correlated directly to the tasks I did during my internship at Wolf Paving. It was neat going back to school with this base of real-world knowledge. It was nice to have a cohesive work and education experience come together as one." - Jeremy, Project Manager who was offered a full-time position immediately after the internship
3. The Opportunity for Advancement
Paving is a thriving industry. Wolf Paving has been steadily growing for over 75 years, and business is better than ever! We are always on the lookout for hardworking, loyal employees we can trust to hold true to our company values and provide excellent work for our clients.
"I hadn't done anything in the construction field before my internship at Wolf Paving. I figured I'd try it out the first summer, see if I liked the pace of work. I really liked the people I was working for and working with as well as the diversity of work." - Jeremy, Project Manager
Hear what our team has to say about the Wolf Paving Internship Program
What is Wolf Paving looking for in an intern?
"I'm looking for someone who has the ability to learn and also share their knowledge with us. Someone that's honest, someone that's loyal. I'm also looking for someone that wants to be a part of the Wolf Paving family.

That's really what we're all about here, is family." - Sherry, Director of HR and Administration
If you're willing to learn, have an open mind and a good attitude, we can take care of the rest! Check out our careers page or contact us directly to learn about our current internship opportunities. We hope to hear from you soon!