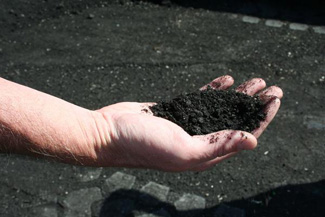 Despite the large amounts of year-round precipitation we receive in Milwaukee, Waukesha and Madison, water is still a valuable resource to be conserved and carefully managed. One way to help our environment is to consider porous asphalt for your next parking lot or driveway project, either at home or at work.
At Wolf Paving, we have been providing paving solutions for clients for 75 years and we are proud to offer porous asphalt pavement and green solutions that focus on the environment.
Here are a few things you should know about porous asphalt pavement if you are considering a new pavement surface and are interested in saving money in the long-run, improving the local ecosystem and getting financial and tax incentives with storm-water management improvements.
What is Porous Pavement?
Porous pavement allows water from rain or snow melt to drain through the pavement surface into a stone recharge bed, and filter back into the soil and groundwater below.

Porous pavement allows water to flow through it rather than shedding water, reducing water runoff, eliminating slipping or hydroplaning, and returning water naturally to the water table.
Why Should You Consider Porous Pavement For Your Residential Asphalt Driveway?
Porous asphalt pavement is a great choice for your home because over time, it is a sound investment.
It can last up to twenty years before showing any cracks or potholes.
It is a durable product.
With proper maintenance, it can effectively manage rainwater distribution.
It helps to preserve landscape features, like large trees, can helps naturally return water to the ecosystem.
Request more information about porous asphalt pavement or get a free paving estimate.
Porous Pavement and Your Commercial Asphalt Parking Lot Installation Project
In addition to the environmental benefits and long life that porous asphalt offers, there are also significant cost savings that make it a great choice for larger commercial projects.

Certain local governments charge developers storm-water impact fees when water run off from parking lots overwhelms the storm sewer system.
These impact fees can be eliminated by using porous asphalt.

Porous asphalt also cuts costs by eliminating the need to install a storm-water management solution like a detention basin or retention pond.
It is good for the environment and storm-water management.

This elimination gives you more useable real estate to work with - the land that you would need for the retention pond can be developed and used in other ways. Moreover, it can help naturally water your landscaping, trees and foliage.
Aspects of porous asphalt parking lot installation like the underlying stone bed are more expensive than conventional construction, but these costs are more than offset by benefits mentioned above. Overall, a porous asphalt driveway or parking lot is much less expensive.
The Expert Asphalt Parking Lot Installation Process
Porous asphalt installation is a little different than a conventional asphalt parking lot installation. Here's what the process will be like:

A stone bed must be planned and installed beneath the surface of the pavement, and any drainage issues within the pavement surface must be considered.

The size and depth of the stone bed must be designed so that the water level never rises into the asphalt.
When it is time to lay the surface, porous asphalt mix contains less finely crushed filler between its aggregate than in regular asphalt. This creates narrow pathways for rainfall and snowmelt to travel downward into the soil. Choosing a contractor with the ability to create their own asphalt mix will ensure that you get the best products - and results- possible.


If you're considering repaving your parking lot or are developing a plan to make the most of your development property, consider porous asphalt. Let the paving professionals at Wolf Paving help you discover the cost benefits and environmental benefits that this asphalt paving solution can offer.

If you have any questions about the benefits of asphalt paving or are interested in a free asphalt paving estimate, please contact us today!

With 75 years of asphalt paving experience, from highways to driveways, we are your local source for all of your asphalt paving needs. Wolf Paving offers professional paving services from Milwaukee to Madison, and everywhere in between, including all areas around: Sun Prairie, Oconomowoc and Waukesha.

It's never too early or too late to request a free paving estimate. Call Wolf Paving today. For the Milwaukee area, call us at 262-965-2121. For the Madison area, call us at 608-249-7931.