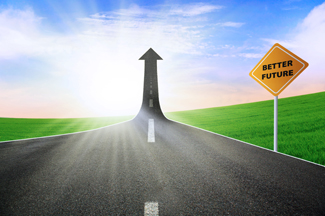 When we think about the future of pavement, we tend to think about durability, construction costs, maintenance and repair costs, green features and future technologies. Here at Wolf Paving, we strive to stay up-to-date on the latest technologies and the future of asphalt paving.
Asphalt Construction and Maintenance Costs
The primary concern facing asphalt paving today is the high initial construction costs and the future repair costs. For asphalt to continue to be the primary choice for roadways, parking lots, driveways and other surfaces, it has to become more durable and less costly to maintain. Asphalt contractors can mitigate part of this problem by offering longer warranties and by using better quality pavements that are custom mixed to hold-up to the weather patterns in a given geographical area.

The US Department of Transportation recommends that contractors participate in workshops that address the importance of staying up-to-date with the latest technologies and by using new, advanced software that allows the contractor to test out weather patterns, temperatures, highway speeds and traffic conditions on certain asphalt mixes in order to gauge long-term performance.
Self-Healing Asphalt
Self-healing asphalt and porous asphalt, both very new technologies, can remove a lot of the problems associated with traditional asphalt mixes. Porous asphalt contains many permeable pores that allow water to drain through the surface. This eliminates pooling water and tire noise to create a surface that lowers the hydroplaning risk and is exceptionally quiet. Unfortunately, porous asphalt has a tendency to gravel, which means that the individual stones in the asphalt mix separate from the surface. This creates potential projectiles and can lead to potholes and cracks.
The fix for porous pavement is to create self-healing porous pavement. Self-healing asphalt incorporates steel wool into the bitumen mix, which is the binder that holds the aggregate stones together. When steel wool is added to the mix, it allows the pavement to self-heal when heat is applied. This has the potential to double the useful life of the pavement and it cuts down on graveling, cracks and potholes.
Green Technologies
Currently, more than 96 percent of all removed asphalt is recycled and as a result, the asphalt industry is the number one industry for recycling. This dramatically reduces the need for new resources and reduces landfill waste. In the future, asphalt surfaces will need to become more durable and greener in order to stay competitive and to reduce maintenance and repair costs.
One way to do that is to create ultra-smooth pavement, which reduces tire noise and creates less friction, allowing for an increase in the fuel efficiency of cars. Another way to enhance the focus on green technologies in asphalt paving, is to utilize the data collected by mobile asphalt mixture laboratories, which develops, tests and implements new pavement mixtures and manufacturing technologies.

The pavement of the future could also have the potential to produce power. With more than 2 million miles of asphalt road surfaces in the United States, adding solar panels or geothermal heating elements to pavement could provide an alternative source of energy creation. Solar Roadways, based in Idaho, is currently working on a way to incorporate highly durable solar panels into roadways to create surfaces that are safe and durable to drive on while producing green energy.

Whatever is in store, you can be sure Wolf Paving will be listening and watching. We promise to keep you updated and informed of any and all changes happening to the industry. As a third generation, family-owned business, you could say asphalt is in our blood. We will continue to bring you the very best in quality mixes, paving and construction service needs. From all of us at Wolf Paving, thank you for your business, travel safe over the Holidays and Happy New Year!