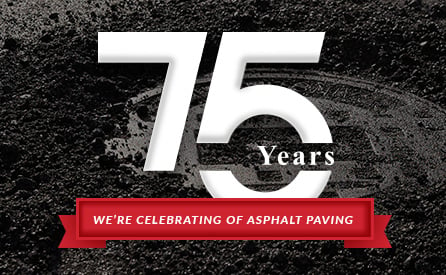 Seventy-five years ago, the tradition of quality construction with a focus on customer service began. The doors of Wolf Paving opened in 1941, and since that time, our team of asphalt paving professionals has been leading the industry in quality asphalt paving services, customer care and innovation.
Our team at Wolf Paving is a third-generation family owned business, and a leading asphalt manufacturer and contractor serving Milwaukee and Madison, and everywhere in between, including Waukesha, Oconomowoc and Sun Prairie.
A Brief History of Wolf Paving
Lawrence Wolf started Wolf Construction in 1941 as an outlet for his mechanical expertise obtained as a vehicle mechanic. In its early years, Wolf Construction focused primarily on manufacturing sand and gravel for Waukesha and Jefferson counties, which were experiencing rapid expansion.
During the 1950s, as the local community continued to grow, Wolf was the company of choice to help build new road and community infrastructure. In fact, between 1954 and 1964, Wolf developed the majority of the local subdivisions in the county. Over the years, Wolf contributed to the development of a number of key roadways as well, including HWY 100, HWY 59, and the Waukesha bypass.

Thanks to the Wolf Paving Family
While we are proud to be a third-generation, family owned business, we know that we could not be here today with the continued support of our wonderful employees and our exceptional customers.
Thank you to our team of dedicated employees for their hard work. From estimators, to engineers, accountants to human resources, we appreciate you for helping Wolf Paving grow and excel in the industry.

Thank you also to our wonderful customers, who continue to return to us for their driveway, parking lot and roadway installation and repair for residential, commercial and municipal projects. We appreciate your trust in our expertise and for recommending us to your family and friends.

Follow Wolf Paving as We Celebrate 75 Years
Follow along this year as we share insider secrets of the industry and highlight paving and asphalt facts. We are looking forward to sharing photos, videos and information with you and we hope you come back often to see what's new! You can follow along with our blog, or visit, 'like' and share our Twitter, Facebook,LinkedIn, YouTube or Google+ pages to stay connected. 

Over the past 75 years of service, Wolf Paving has built a strong history in custom asphalt paving solutions for every unique paving job, and we hope to continue this tradition for another 75 years.

Offering professional paving services from Milwaukee to Madison, and everywhere in between, including all areas around: Sun Prairie, Oconomowoc, and Waukesha.
It's never too early or too late to request a free paving estimate. Call Wolf Paving today. For the Milwaukee area, call us at 262-965-2121. For the Madison area, call us at 608-249-7931.