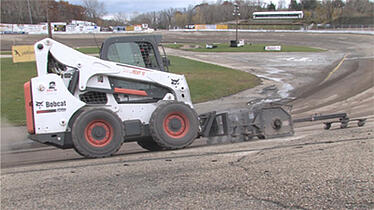 On a race track, a smooth ride is of utmost importance, as bumps affect the safety and drive of a race car. The Slinger Super Speedway noticed their race track needed maintenance as bumps were beginning to appear, and contacted Wolf Paving for help.
Pavement needs continuous maintenance. Bumps or a rise in the surface can occur in asphalt or concrete due to weather damage or problems below the surface. To keep the pavement smooth, without having to do a complete repave, a flatliner can be used to grind off the bumps.
Using a flatliner is a cost effective and "green" solution to correct pavement ride and retain pavement smoothness. Unlike diamond grinding or milling, the flatliner does not fracture the pavement surface. It will leave a superior smooth surface and not hurt the depression.
Flatliners are used for smaller projects that don't require a complete repave. The benefits of using a flatliner are that you can grind dry, eliminating by-product and onsite water trucks and disposal trucks. It can also be used to remove various types of coatings as well, including bridge epoxy, floor coating, crack seal, slurry seal, and micro-surfacing.
The way the flatliner works is what truly separates it from the competition. It has two pivot points - front and back, and left and right. The ones in the front and back track the pavement surface, while the others rotate. The gauge wheel keeps it level with the surface, and a hydraulic gutter boom cleans the surface for the gauge wheels. The flat tooth technology is where the real magic happens. This technology is what makes for a uniformed surface pattern and can also be adapted to other machines.
Wolf Paving owns and operates a flatliner, the only one in Wisconsin. This flatliner was used at the Slinger Speedway to grind out bumps in the race track. The operation of the flatliner is unique in that the ground surface doesn't require any further attention. The surface is now smooth after using the flatliner. A typical grinder would have left a grooved surface that affects the ride as a vehicle passes over it. The tires will have better contact on a flatlined surface, which will result in a smoother and safer ride. This is also the primary reason to use it on a racetrack - a smoother track will make for faster and safer racing.
Wolf Paving has a special connection to the Slinger Speedway as well. Area Operations Manager Conrad Morgan has been racing since he was 18 years old. He will be turning 66 years old this summer.
"I have been told that it is very addictive and I certainly can't disagree with that. My plan is to keep doing it as long as I enjoy it, and my health allows me to continue. I was inducted into the Wisconsin short track Hall of Fame last fall. I would like to be the first to win a race after being inducted. I'm sure that I can accomplish that this season but that doesn't mean that I will quit. I'm addicted!"
How can Wolf Paving help you smooth out the bumps this spring? Learn more about how we can help with your asphalt maintenance and repair.