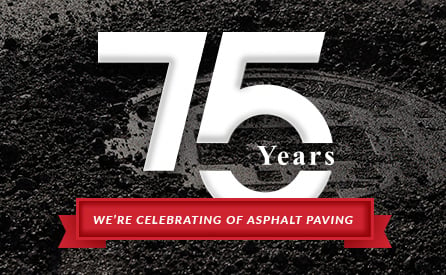 As part of our 75th Anniversary celebration, Wolf Paving is excited to give back to the local communities where we work.
Since we began in 1941, we have been proud supporters of local events, clubs and schools. As asphalt paving professionals, we take great pride in our communities because we have been a part of building many roads, driveways and parking lots, from the ground up.
#WolfPaving75 Charity Initiative
For our charitable giving initiative, we are looking to:
Engage with the local community.
Encourage all of our community members, friends, followers and customers to get involved.
Help to spread the word about great local charities.
Each month, our team at Wolf Paving will pick one local charity and we will make a donation on behalf of our dedicated team of employees. Perhaps it will be 75 items to a local charity, or 75 minutes of donated time; each donation is intended to highlight our 75 years of growth and support within the local communities of Milwaukee, Oconomowoc and Sun Prairie.
Through the entire asphalt paving season, Wolf Paving will highlight one charity each month and talk about the great things they are doing in the local community.
Interested in Getting Involved?
Follow along with the hashtag #WolfPaving75 and see the great things we are doing in your local community.
Or let us know if there is a charity close to your heart that could use some additional support.
With 75 years of asphalt paving experience, from highways to driveways, we are your local source for all of your asphalt paving needs.
Wolf Paving offers professional paving services from Milwaukee to Madison, and everywhere in between, including all areas around: Sun Prairie, Oconomowoc and Waukesha.
It's never too early or too late to request a free paving estimate. Call Wolf Paving today. For the Milwaukee area, call us at 262-965-2121. For the Madison area, call us at 608-249-7931.