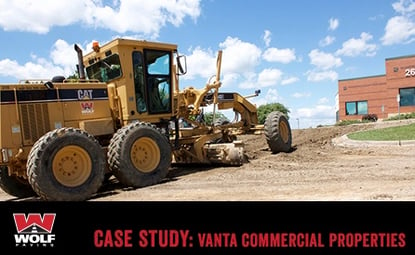 Wolf Paving completed commercial asphalt pavement parking lot removal and installation for three commercially leased buildings in Madison, Wisconsin.
Vanta Commercial Properties requested a complete asphalt parking lot removal and repaving but requested that their leased tenants could continue to use the buildings and parking lots, without interruption, during the paving project.
The project site location was off of Crossroads Drive, in the High Crossing Business Center on the Eastside of Madison.
Click here to view the PDF Case Study now to learn more about the paving project.
Take look at this short video to see the Wolf Paving team in action!
Main Client Concerns:
Cost
No disruption to business tenants
Wolf Paving Solution:
To help clients work within their budgets, Wolf Paving believes that one of the most important considerations for any paving job is to provide flexible options for every part of a process.
When you receive a price quote from Wolf Paving, you can expect a la carte options for almost every process step, including:
Base stabilization methods
Types of aggregate
Grading procedures
Binder used
Surface thickness
Paving method
This cost flexibility allows clients the opportunity to help set
their own budget based on their key areas of concern.
To ensure that business owners could continue work uninterrupted for the duration of the paving project, Wolf Paving completing each parking lot in two phases, allowing a portion of each parking lot to be used to for employee parking.
Size and Scope of Asphalt Paving Project:
For this commercial asphalt paving lot installation job, broke up there time in phases, spending two days removing asphalt, two days completing fine grading work and two days paving.
Here are the final project details:
Asphalt type used:

Commercial 12.5 mm binder and Commercial 9.5 mm for the surface.
Project size was 6,604 square yards.
For the project, 815 tons of binder was used.
575 tons of surface asphalt was used.
Project Steps:
Complete removal– Wolf Paving completely removed the existing surface area and recycled the materials used, making the project environmentally friendly.
Prepare the sub base– the addition of stone and aggregate to prepare the sub base was an important part of the paving project. The sub base provides the strong foundation needed to support the surface asphalt.
Fine grading – grading is completed to manage water run-off appropriately. During the proof row of this project, the Wolf Paving team came across unforeseen soft clay areas in the sub base that required repair.
To manage this additional cost, Wolf Paving used a new technique called plowing to undercut the sub base and mix the soft clay with aggregate to improve the strength of the compromised areas.
Binder and surface course – 1.75 inches of binder was used on this project in light duty surface areas and 2.5 inches of binder was used in heavy duty, high traffic areas for added support. The binder surface provides the strength of the parking lot. Binder includes larger aggregate with more oil, increasing strength.
Asphalt surface – 1.5 inches of surface asphalt was used for this project. Surface asphalt has small aggregate, more sand and more oil, which offers a smooth ride and a shiny, attractive finished surface.


Commercial Asphalt Parking Lot Installation Final Results:
The final project looked excellent. The client had no complaints and was pleased that the job followed the proposed plan and budget, even with unforeseen undercutting requirements. The final drainage of the parking lot was also excellent.