Driveways are not always short and straight, especially in rural areas. Jeff Schmoeger's driveway is approximately 800 feet long with a hilly slope, but this didn't stop Wolf Paving from completing the residential paving project.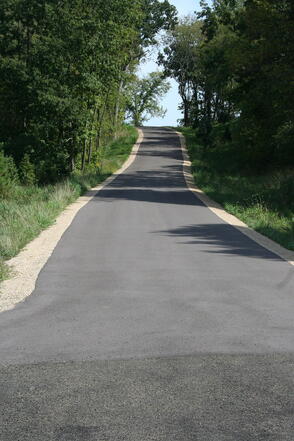 Moll Construction Inc. referred Wolf Paving to Schmoeger, after the construction company did the excavating to carve a pathway through the woods where the driveway was to be paved.
When Schmoeger made the call to Wolf Paving and was directed to project manager Darren Bosshard, who personally came out to see the property. A couple days later, an estimate was given to Schmoeger. The entire paving project took proximately 3.5 hours, with 8 hours of prep time.
"Darren was prompt and came back to me, he was courteous and professional. Everything he said would happen did happen, and it happened when he told me it would," said Schmoeger of the project.
He went on to say, "I am very happy with the quality of the workmanship. The experience was great, and I would use them again."
For more information or to request a quote on residential sealcoating for driveways and commercial sealcoating for parking lots, contact the experts at Wolf Paving.