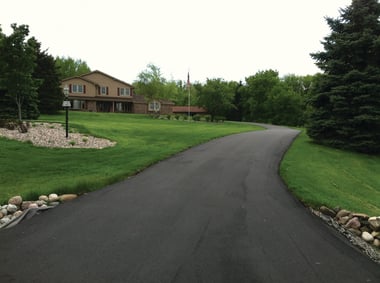 You can see the alligator cracking, the potholes and the heaving, you know you need a new driveway, but where do you start? With so many options and so many 'qualified' contractors, it can be difficult to understand what to look for in an initial consultation and what should be included in an driveway installation quote.
At Wolf Paving, we have been installing asphalt driveways and highways for over 75 years. Whether you choose us to help you with your asphalt driveway installation or not, here are the things you should look for in an asphalt driveway quote.
1. A Knowledgeable Contractor.
Everyone will say they are a knowledgeable, experienced contractor, but do your own research. There are some specific areas of expertise you should look for in a contractor, here are our top suggestions:
Talk About Surface Preparation. Your contractor should walk you through the job from start to finish. The most important part about your driveway is not what is on the surface, but rather, the subgrade. If your driveway base is not properly installed, no surface, be it asphalt, concrete or pavers, is going look good or provide durability.
Talk About Grading. The number one enemy of your driveway surface is water and improper drainage. If the topic of water distribution and grading does not come up in your quote, move on! Driveways with poor drainage have a shorter lifespan and require more frequent maintenance and repairs. Standing water compromises the materials and integrity of asphalt installations. A contractor cannot provide you with an accurate quote if they do not take the time to consider proper grading and water movement for your unique driveway surface.
Discuss The Benefits of Asphalt. At Wolf Paving, we work exclusively with asphalt and feel it is the best, most cost effective option for residential and commercial driveways. Even so, we always walk our clients through the pros of an asphalt surface when compared to other surface options, such as concrete or pavers, so they understand exactly why we recommend asphalt. Moreover, your contractor should talk to you about permeable or porous asphalt pavement and what the benefits of this new technology can provide for your driveway and landscaping.
Help You Understand Required Maintenance. It would be incorrect to assume that the installation of your new driveway is the end of your driveway worries for 20-30 years. In fact, no matter what type of surface you choose, it will require maintenance. Your contractor should discuss all of the maintenance requirements you should expect and what your role may be throughout the lifetime of your new driveway surface.
2. Recent, Local References.
The cheapest and fastest contractors are not always going to give you your money's worth. It is always a good idea to look at ratings and reviews from other customers. If requested, your contractor should provide you with a list of references to help highlight their experience and customer satisfaction rates. You should make sure the list is both recent and local. You want to make sure that the contractor you hire has experience with your particular climate, soil type and even with your local tree and plant populations.
3. Custom Asphalt Mixes.
There are many great asphalt contractors today, but only a handful actually own the materials and plants for material distribution. Controlling the raw ingredients in your new asphalt driveway means that the installation team can find the perfect custom asphalt mix for every unique driveway surface. At Wolf Paving, we own our asphalt plants and materials; in fact, we have developed more than 20 custom mixes to ensure the right asphalt mix every time.
If you are in the market for a new asphalt driveway we hope you found our tips helpful. If you have any additional questions about asphalt driveway installation or need insight into the best surface for your driveway, let us know in the comments!
With 75 years of asphalt paving experience, from highways to driveways, we are your local source for all of your asphalt paving needs.
For more information on Wolf Paving or to request a free quote for your next paving project contact one of our two offices. If you live or work in the Milwaukee area, call us at 262-965-2121. For the Madison area, call us at 608-249-7931.