Over the years, Wolf Paving has completed thousands of paving jobs for residential paving, commercial paving and municipal paving clients. Here, we highlight one job that used porous asphalt paving to help one business in more than one way. Take a look.
In June of 2011, Wolf Paving was brought in as an asphalt paving subcontractor on a building addition and parking lot expansion project. But, as it turned out, this wasn't your normal, run-of-the-mill type of project. It became a unique collaboration among a diverse and highly-talented team.
Porous Asphalt Pavement Project Details
At the time, the Wenthe-Davidson Engineering Co. of New Berlin, Wisconsin was in need of a facilities expansion in the neighborhood of 25,000sf. At first blush, engineering revealed there simply wasn't enough usable land at the site to accommodate a new structure of that size plus the additional parking that would be needed and, still be in compliance with the areas storm water management plan. It seemed relocating to another location was the only answer, but that too proved to be an untenable, cost-prohibitive solution. And somewhere in all of this some very bright people got together around a porous asphalt pavement solution.
Mark Ellena of Ellena Engineering Consultants got the idea for a very unique and ingenious solution from a seminar he had taken on flood water management methods and procedures involving the use of porous asphalt. According to the National Asphalt Paving Association (NAPA), porous asphalt pavement has played a prominent role in the paving industry since the mid-1970s. More importantly perhaps, it's been discovered to be an extremely cost-effective and viable solution for complex projects involving storm water management.
According to information found on NAPA's Web site:
"With the proper design and installation, porous asphalt can provide cost-effective, attractive pavements with a life span of more than twenty years, and at the same time provide storm-water management systems that promote infiltration, improve water quality, and many times eliminate the need for a detention basin."
Mr. Ellena brought this idea of using porous asphalt for the parking lot expansion over the floodplain to Jim Warzinski of Wolf Paving. Mark provided research and created a design based on the specifications involving the size, depth and quantity of material needed for water storage and infiltration. Jim supplied his expertise on the technical aspects of the porous asphalt product and a gradation plan that would meet Mark's design requirements. Together, the pair provided general contractor, Anderson Ashton a compelling and winning plan by which to enable the customer to successfully complete their expansion without compromising the site's storm water management scheme - and most likely saving the company tens of thousands, perhaps millions of dollars in the process.
Another key player in the overall solution was the Vulcan Materials Company who supplied the all-important base course or stone recharge bed called, Decco Base. This is the heart of the system which not only provides the infiltration of water but a strong sub-base for the porous asphalt. In the illustration below, you can see a cross section of the elements making up the complete solution.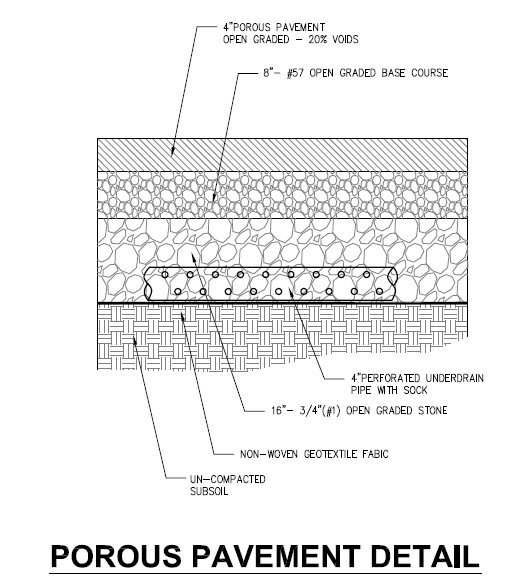 "Together, we collaborated on design and technique to meet the client's need and delivered the solution with a personal touch," said Mark Ellena. "And It looks better than I ever thought it would look, Wolf really delivers to meet the project needs. They're the best around."
The following is a photo of a portion of the finished parking lot with the porous asphalt on the left and the regular asphalt pavement on the right.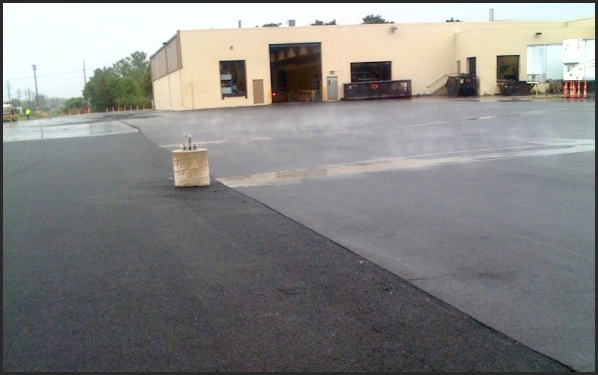 Have a storm water management challenge to your expansion or property plans? Consider a porous asphalt pavement solution, designed and installed by the experts. Request an estimate, now!
This is one of Wolf Paving's many success stories. A leading provider of residential, industrial and commercial paving solutions in Milwaukee and southern Wisconsin, Wolf Paving has built a strong reputation for exceeding client expectations through ingenuity, adaptability and old-fashioned hard work. (Not to mention some pretty effective teamwork and collaboration with some of the best engineers, contractors and industry suppliers around!)
If you'd like more information about how our team of pothole repair contractors can help your business or municipality with timely repair services, request a free estimate now so we can understand the size and scope of your project needs.
With 75 years of asphalt paving experience, from highways to driveways, we are your local source for all of your pothole repair and asphalt paving needs.

For more information on Wolf Paving or to request a free quote for your next paving project contact one of our two offices. If you live or work in the Milwaukee area, call us at 262-965-2121. For the Madison area, call us at 608-249-7931.