With the rough vehicle fuel economy, people are trying to cut back on driving. This is easier said than done. Here's some good news though, and it may make you rethink how you feel about road construction. Smooth pavement lowers a vehicle's fuel consumption and extends the life of the road by minimizing tire bounce and load impacts - which adds up to cost savings for you in the end.
The Asphalt Pavement Alliance Has A Very Informative Ebook On Asphalt's Impact On Fuel Efficiency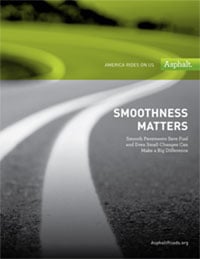 The Asphalt Pavement Alliance (APA) published a nice e-book discussing the benefits of smooth pavement and how making small changes can make a big difference. It's worth the read and available for download on their website.
In summary, the e-book discusses the three characteristics that researches are looking at as a way to reduce vehicle fuel consumption - something we can all appreciate. The characteristics that they're analyzing are: rolling resistance, pavement stiffness and pavement smoothness.
Of the three, pavement smoothness has the biggest impact on overall fuel efficiency. Studies done by the Federal Highway Administration have shown that driving on smoother surfaces can reduce fuel consumption in the neighborhood of 4.5 to 5 percent as compared to fuel consumption on rough pavement. That really adds up when you look at an excerpt from their report:
"Americans burn 175 billion gallons of fuel driving 3 trillion miles a year. If we could make the roads across the nation slightly smoother, we could likely save at least 4 percent of the fuel consumed. This could reduce annual vehicle fuel consumption by about 7 billion gallons, equivalent to taking over 10 million vehicles off the road every year."
So, if pavement smoothness is a big part of the equation, which pavement is better for highway construction - concrete or asphalt? Of the studies done by both concrete and asphalt advocates, it seems as if the reports are comparing apples to oranges and that a more controlled experiment would need to be done in order to pick a clear-cut winner.
But one thing that has been noted is that in general, asphalt pavement is smoother then concrete. This is supported by smoothness standards that states have in place to manage the quality of finished paving projects. The smoothness requirements for asphalt roads are more stringent than for concrete roads - mainly because of the inherent features of each of the materials. Plain and simple, it's easier to produce smoother asphalt roads.
Whether it's concrete or asphalt, the facts are clear - smooth pavement means less fuel consumption and less wear and tear on your vehicle, which saves you money in the end.
Case Study: Wolf Paving Gives Racers a Smoother Ride
The Slinger Super Speedway noticed bumps were beginning to appear on their track. For the safety of the drivers and their cars, they contacted Wolf Paving for help. To keep the pavement smooth, without having to do a complete repave, a flatliner was used to grind off the bumps.

To go more in-depth on this project, read this case study!
More Benefits Of Asphalt
As if having a smoother, money saving pavement wasn't enough. Asphalt is also:
Environmentally friendly. Asphalt is 100% recyclable, in fact, recycled asphalt is stronger asphalt. You can read more about the asphalt recycling process and how the asphalt itself benefits from it in this blog.


Safer. Asphalt offers better skid resistance, reduces splash back, has better visual distinctions for lot markings, and helps melt snow and ice faster which reduces slip and fall risks in winter.


Time and cost efficient. Asphalt can be installed quickly, meaning your parking lot or driveway won't be out of commission for long. A well-built blacktop has a very long lifespan, and requires minimal upkeep through the years. To get the most out of your project budget, check out our Asphalt Project Planning Guide.
Got an asphalt project in mind? Get a free project estimate today or call one of our offices. For the Oconomowoc office, call us at 262-965-2121. For the Sun Prairie office, call us at 608-249-7931. Our estimators will set up a date to come out and meet you, look at your project, give you an estimate, and walk you through exactly what that estimate means.