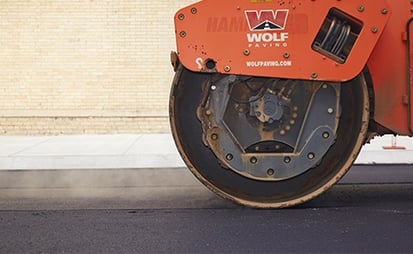 Asphalt is the most versatile pavement material available. It is used in many different capacities and circumstances. Asphalt is used to pave roads, driveways, parking lots, tennis courts, golf cart paths, airport runways and racetracks.
Each different job may require a different type or mix of asphalt. Asphalt can be mixed to accommodate different size loads, to absorb noise, reduce splash and spray when raining, and even to treat water runoff.
At
Wolf Paving
, we are proud to offer 75 years of experience providing exceptional customer service and knowledge. When it comes to asphalt, we really are the experts.
Here are some tips and tricks to help you choose the right type of asphalt for your next paving job:

Perpetual Pavement
Perpetual pavement is based on a multi-layer paving process designed to extend the useful life of a roadway. A strong but flexible base prevents cracks in the bottom of the pavement, a strong middle layer built to be permanent is added and a driving surface is added that will last for several years but is replaced periodically. Only the top layer is removed and replaced which reduces the work time and long term costs significantly. In addition, asphalt is recyclable which further reduces costs and helps to preserve the environment.
Porous Asphalt
Porous asphalt allows water to drain through the surface and into a recharge bed then into the soil below the pavement. This type of pavement is used mostly for parking lots, but helps enhance storm water management and improve the quality of ground water. Similar to other asphalts, porous asphalt can be designed for varying situations and circumstances and is long lasting.
Quiet Asphalt
Noise pollution is one of the most intrusive types of pollution. Road noise is significantly reduced (about 50%) by using stone mix asphalt. This is much more practical and cost effective than noise barrier walls. This makes good sense where roads are built through existing residential communities and homeowners are forced to adjust to the noise.
Warm Mix Asphalt
Warm mix asphalt involves technologies that allow paving with asphalt at significantly lower temperatures. This saves fuel, reduces green house gases and extends the paving season. It also allows for better compaction of paving when laid.
Hot Mix Asphalt
Hot mix asphalt is considered best for driveways, because construction and design features are suitable to giving it a finished appearance that complements the home. Also, it is strong and durable, easy to repair, withstands freezing and thawing, is unaffected by salt in the winter, low maintenance and relatively inexpensive.
As technology continues to improve different types of asphalt will emerge providing wider and better choices.
With 75 years of asphalt paving experience, from highways to driveways, we are your local source for all of your asphalt paving needs.
Wolf Paving offers professional paving services from Milwaukee to Madison, and everywhere in between, including all areas around: Sun Prairie, Oconomowoc and Waukesha.
It's never too early or too late to request a free paving estimate. Call Wolf Paving today. For the Milwaukee area, call us at 262-965-2121. For the Madison area, call us at 608-249-7931.