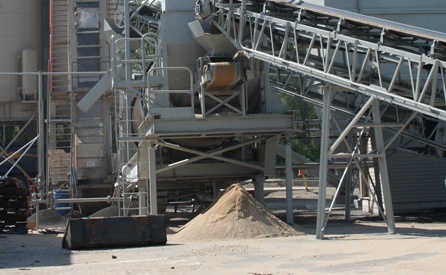 You see asphalt everyday on the roads you drive, paths you walk and highways you use to get around. But have you ever wondered about the asphalt manufacturing process?

Where Does Asphalt Come From?
While asphalt can still be found in its natural state, today's asphalt is typically processed from petroleum. Oil wells supply petroleum to oil refineries, where it is separated into various factions, one of which – from the heaviest part of petroleum– is asphalt.
Asphalt may then be modified in a variety of ways, including "cutting back" (adding a cutting agent) to make it malleable enough for use, or emulsified or pulverized to gain the right consistency. Asphalt for paving goes through a mixing process in either a drum mix plant, which is a large-output and continuously operating facility, or a batch plant, which is a smaller-output plant that mixes in batches.
Getting the Right Asphalt Mix
There are a few different ways to mix asphalt, the most popular of which are hot and cold. Hot-mix asphalt is made by heating aggregates to decrease the viscosity of the binding agents and make the whole more fluid, then drying it to remove any remaining moisture. It is mixed hot at 200-350 degrees Fahrenheit. It is called hot-mix because not only because it is mixed hot, it must also remain hot for the paving and compaction for repair or installation. This need for the asphalt to remain warm while paving and compaction is performed is one of the reasons so much paving is done in the summer.
Completed asphalt is evaluated for its quality in terms of consistency or viscosity, and purity. These are important for the asphalt to be properly controlled, transported and used in paving projects.
Cold-mix asphalt is made of quarter inch chip and proprietary oil. This specific make-up keeps the asphalt soft and helps it repel water. As its name suggests, cold-mix asphalt does not need to be warm to be used in asphalt repair. Additives in the oil keep the mixture soft all year long to allow for pothole patching in different types of weather. Even in cold or wet weather, cold-mix asphalt stays soft and repels water, making it perfect for pothole repair in winter and early spring. It will drive water out of the pothole, adhere to the surface underneath and remain flexible, keeping a pothole patched all year long.
Asphalt Manufacturing and the Environment
The environment is carefully considered throughout the asphalt manufacturing process. Emissions from oil refinery plants and asphalt manufacturers are rigorously controlled using equipment that re-collects the dust and particulates and re-uses them in the heating process. This saves them from being emitted into the environment and also increases the efficiency of the heating process. Asphalt recycling also positively impacts the environment: at least 90 million tons of old asphalt pavement is crushed and recycled into new asphalt annually. At Wolf Paving, we recycle 100% of the asphalt removed from job sites, in addition, we accepts recyclable material from other contractors.
Until flying cars become the norm, asphalt roads are here to stay — but even then, we'll need parking lots. Therefore, the asphalt manufacturing process is always being improved, including improved raw material usage, techniques for maintaining existing asphalt and recycling methods.
Intrigued? Contact Wolf Paving to learn more about asphalt paving or to have your parking lot, road or driveway paved.
With 75 years of asphalt paving experience, from highways to driveways, we are your local source for all of your asphalt paving needs.
Wolf Paving offers professional paving services from Milwaukee to Madison, and everywhere in between, including all areas around: Sun Prairie, Oconomowoc and Waukesha.
It's never too early or too late to request a free paving estimate. Call Wolf Paving today. For the Milwaukee area, call us at 262-965-2121. For the Madison area, call us at 608-249-7931.