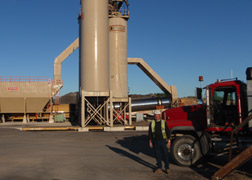 At Wolf Paving, many different types of asphalt can be mixed and created for any type of paving project. In fact, Wolf Paving creates cold mix asphalt specifically designed for pothole repair. Take a look at our facts and video below that discuss the manufacturing process.
What is Cold Mix Asphalt?
Cold mix asphalt is made of a quarter-inch chip and proprietary oil, which keeps the asphalt soft and helps to repel water.
Because of the specialty mix, this repair solution does not require any heating.
Additives in the oil keep the mix soft all year long to allow for pothole patching in all different types of weather.
Cold mix asphalt stays soft in cold temperatures and repels water; it will drive water out of the pothole and adhere to the surface underneath.
This mix will flex and move within a pothole, allowing it to stay in the pothole keeping it patched.
Video:The Cold Mix Asphalt Manufacturing Process
The manufacturing process to create our specialty mix is fairly simple, allowing it to be crafted at almost any temperature. Please take a look at our short video and some additional facts about our manufacturing process that may be of interest.
We use a portable pug mill to start the manufacturing process.
One size of stone is used in the mix and fed into the machinery at one end.
The stone is weighed and runs up a conveyor to be mixed with the correct amount of oil.
It then runs through the pug mill, which does all the mixing and it comes out as a coated cold stone mix.

Our team of asphalt pavement experts has a variety of custom mixes for your project needs. In fact, at Wolf Paving, we make another cold mix asphalt with sand, that is often used for driveway or parking lot pothole repairs because it is more workable in colder weather. Both of our cold mixes offer many benefits over traditional hot mix asphalt for pothole repair.
Wolf Paving asphalt paving contractorsare proud to create custom pothole repair solutions to help you.
Our custom cold mix is sold by the ton all year round.
We offer a variety of delivery options or you can bring your own transportation.
We will sell any amount you need for your project.
Cold mix asphalt is available for delivery and pick up at both our Oconomowoc and Sun Prairie locations. Pleasecontact us today if you're interested in purchasing cold mix asphalt or to learn more about our asphalt solutions.

With 75 years of asphalt paving experience, from highways to driveways, we are your local source for all of your asphalt paving needs.
For more information on Wolf Paving or torequest a free estimatefor your next paving project contact one of our two offices. If you live or work in the Milwaukee area, call us at 262-965-2121. For the Madison area, call us at 608-249-7931.