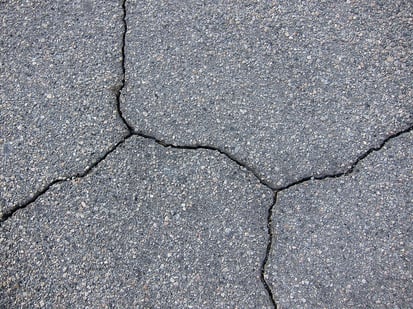 Wisconsin roads take a beating. Wear and tear from heavy traffic and weather often leave streets and highways with cracks and potholes. With the drastic fluctuations in temperature and weather conditions, even the smallest breach can open roadways to future damage and costly repairs. Most damage appears in late winter or early spring as a result of the constant freezing and melting, which weakens pavement. Typically, you'll want to address the problem right away because small cracks and holes are relatively easy to repair. When cracks and potholes are left season after season without attention, not only do they become larger, they can also cause serious damage to the structural integrity of the sub base. To avoid costly repairs and future headaches, damages should be dealt with immediately.
Here's the dilemma: As much as you want to fix cracks and potholes problems right away, most asphalts mixes require relatively warm temperatures to set correctly. But if you wait too long, the problem will grow, costing you more in the long run.
Here's your solution: Cold mix asphalt. Custom mixed to fit your specific needs, cold mix asphalt can be used in cold weather to repair cracks and potholes immediately. Our cold mix asphalt manufacturing plant offers a quick turnaround time, helping your get your roads and parking lots back in commission quickly.
The Benefits of Cold Mix Asphalt
Cold mix asphalt is unique because it does not require any heating to become flexible, and because of the additives, the mix stays soft for about six months. This allows it to be stored and readily available to provide asphalt solutions all year long. Cold mix is usable and effective in cold and warm weather, allowing you to quickly address street repairs any time of the year.
The manufacturing process is also simple enough that it can be crafted any time of the year. Cold mix asphalt is made of a quarter-inch chip and proprietary oil, which allows the asphalt to stay soft and enables it to actively repel water. Because of this, the asphalt pushes the remaining moisture in the pothole or crack out, which in turn helps the cold mix asphalt to better adhere to the old asphalt on the road. Due to the fact that Wolf Paving owns an asphalt manufacturing plant, we can offer a great deal of flexibility when it comes to the composition of the mix and how much you want to purchase. We can provide you with a bucket or two for smaller jobs or trucks full for any bigger projects you may have. You can learn more about the manufacturing process from this video, or visit our Manufacturing Cold Mix Asphalt For Pothole Repair blog.
Our team has created custom cold mixes for a variety of projects for both independent and municipal jobs. If you're interested in talking more about asphalt solutions please contact us or feel free to reach out to our Oconomowoc office at 262-965-2121 or our Sun Prairie office at 608-249-79331.
Want even more information on cold mix asphalt? Download our free whitepaper guide on how it's processed and used.