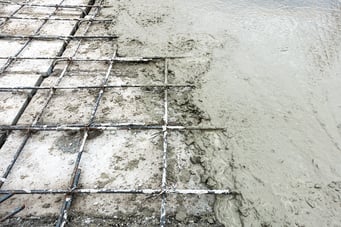 While many people are familiar with the general concepts of concrete installation, what it takes to prepare for a concrete job, the right way, is more of an unknown. Understanding the initial steps involved in a concrete installation project can help you get a better idea of job requirements and timelines. As you plan for your concrete paving project, keep in mind that paving is rarely completed the same day as the prep work.
At Wolf Paving, our experienced concrete contractors know the best way to prepare your home or worksite for concrete installation. In fact, there are six basic pre-installation steps every contractor should follow.
Concrete Installation Preparations
1. Date Estimation
Our prep crew foreman will contact you in advance with an estimated start date for your project. If applicable, Wolf Paving will contact Diggers Hotline. If you need to know immediately when your project is set to begin, call us directly for details.
2. Mark Out Project
Members of our paving team will first mark out your concrete paving project, including defining and squaring out the edges for a neat, straight appearance.
3. Build The Base
If excavation is required, the dirt and debris portion will be cut 8" to 10" inches deep. In its place, 6" to 8" inches of crushed material is placed to provide a stone base. Different base materials will be used to fit each individual job.
4. Remove Old Pavement (If Needed)
On existing asphalt or concrete removals, the old pavement is removed and will be recycled in our recycling facility.
5. Drainage Requirements And Forms
After determining drainage requirements and when the finished grade is established, forms will be placed around the edges of the concrete paving area. If additional crushed stone base is required to establish elevations and strengthen the existing base, it will be added.
6. Add Grid Reinforcing Steel
Then, grid reinforcing steel is installed, designed to provide tensile strength to the paving.
After this prep work is done, it's time to start pouring your concrete pavement!
It's important to note that if soft areas are found, costs to undercut and rebase would be a 'quoted' extra, strictly for time and materials.
Have more questions about your concrete project?
Check out our Concrete Paving FAQ page, or contact one of our paving specialists.
It's never too early or too late to request a free paving estimate. For the Milwaukee area, call us at 262-965-2121. For the Madison area, call us at 608-249-7931.
With over 75 years of paving experience, from highways to driveways, we are your local source for all of your paving needs. Wolf Paving's concrete contractors offers services from Milwaukee to Madison, and everywhere in between, including all areas around: Sun Prairie, Oconomowoc and Waukesha.