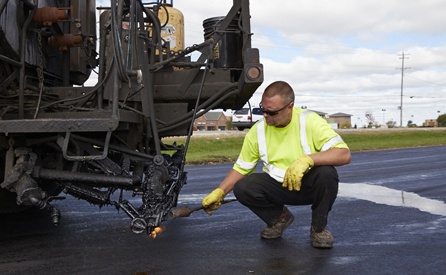 If you are a municipality or business owner looking to make your winter snow removal and maintenance tasks a lot easier, look down at your asphalt surfaces now, rather than up at the changing season skies.
Taking the time to asses the condition of your parking lot, roads and walkways will allow you to create a preventative maintenance plan. Putting this plan into action with the help of your municipal asphalt paving contractors will make your life easier this winter, and provide cost savings for years to come.
To help you get started, here are three resources that explain how end-of-season asphalt repairs can save your municipality money.
Learn how winter weather fluctuations and maintenance necessities like snow removal can compromise your municipal asphalt paving. In addition, learn how you can prevent damage and keep pedestrians and drivers safe by filling potholes and using street sweeping services. Read more now...
Is your business or municipality ready for winter? Use this valuable checklist to make sure that you are ready for the colder temperatures and challenging conditions that winter brings. Learn what supplies you need to stock up on, and how to ensure that you have a reliable snow removal plan in place. Read more now...
See six ways that you can make sure that you are ready to handle the snow and ice, while providing your employees or municipality residents with safe, clear asphalt pavement. This list of six essential tips includes tasks that you can do yourself, and some you should plan to ask your asphalt paving partner about. Read more now...
With 75 years of asphalt paving experience, from highways to driveways, we are your local source for all of your fall repairs and Milwaukee asphalt paving needs.
For more information on Wolf Paving or to request a free quote for your next paving project contact one of our two offices. If you live or work in the Milwaukee area, call us at 262-965-2121. For Madison asphalt paving help, call us at 608-249-7931.