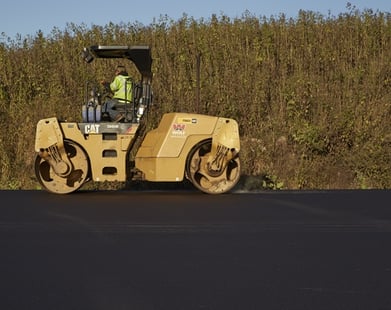 Getting a new parking lot is a big project that makes a big difference for your business. Not only does it give you better curb appeal, but it's safer for your customers and employees. When you decide to repair your parking lot, or get a new one altogether, you need something that will be constructed durably, timely and within your budget.
We've compiled a list of pointers to help you plan for your new parking lot.
Inspect Your Asphalt
Before deciding if you pavement needs a touch up or a full reconstruction, inspect the surface. Look for:
1. Cracks or Potholes. These can allow water to penetrate the surface and serve to expand these imperfections.
2. Pooling water. What's water now will be ice in the winter, making it a potentially dangerous spot for customers and employees.
3. Sinking and shifting. This may mean the problem lies in the sub-base, depending on the condition of the sub-base stabilization might be the process you want to look into.
Getting the Right Option on Your Budget
Believe it or not performing maintenance on your property doesn't have to break the bank. In fact performing regular preventative maintenance is easily done and helps your pavement stay in great shape longer so you don't need expensive repairs.
When big repairs are needed one of the first questions people always ask is "How much is this going to cost me?" It's important to understand that every paving project is different and only rough estimates can be given until all the variables of each particular project are considered. Here are a few of the variables that can affect asphalt paving costs.
Soil
The type of soil onto which the pavement will be poured can affect the quote in a few different ways. Certain types of soil will require more compaction, which is the removal of excess air from the soil making the base more stable. Certain types of soil may require the asphalt to be thicker than others.
Usage
How often do you have heavy trucks, like trash or delivery trucks, driving in the area you're having paved? If never, your asphalt may only need to be a few inches thick. However, if trucks ever drive on the area, even if infrequently, the paving needs to be thicker to withstand the extra pressure. In general, the thicker the asphalt, the more it can withstand and the longer it lasts.
Size
How big is your project? How much prep work will be required? Is it a straightforward project or something more complicated? These are all things that need to be taken into account.
Looking for more in-depth ways to build out a budget and plan for any maintenance your property needs? Check out these resources:
Blogs That Will Help Your Asphalt Budgeting Plan
9 Important Asphalt Paving Budget Tips For Property Managers
How To Budget For Asphalt Repaving For A Parking Lot Or Playground
How To Budget And Plan For Fall Asphalt Maintenance To Save Money
Blogs About Preventative Maintenance
Asphalt 101: Essential Facts To Know About Use, Protection & Maintenance
Top 3 Asphalt Parking Lot Preventative Maintenance Tips To Save You Money
End Of Season Asphalt Repairs Can Save Your Municipality Money
4 Essential Steps For School Parking Lot Repairs And Repaving
For more information on Wolf Paving or to request a free estimate for your next paving project contact one of our two offices. For our Milwaukee location call us at 262-965-2121. For the Madison area, call us at 608-249-7931.