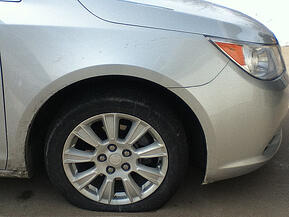 America, of course, is a nation of car-owners and car-drivers. Our roads are the arteries that keep the heart of our great state pumping... and just as your arteries are vital to your own body's health, keeping our roads smooth is vital to your car's health.
SE Wisconsin experienced an exceptionally rough winter and we continue to feel its effects even as temperatures rise. Salt used on our roadways as the severe cold took its toll contributed to a record number of potholes reported over the past few months. When roadways, driveways and parking lots are not properly maintained, the result can be rough on vehicles at any point throughout the year – but especially during the post-winter months. Here are a few key car care essentials to review as we put our hats and mittens away and head into warmer months ahead.
Rotating your tires seasonally extends their lifespan and improves performance.
It's easy to forget about your car's tires and suspension system as you drive, but they're vital to get you where you're going. Every time your car drives over rough patches of asphalt, or hits an unexpected pothole, damage can be done to your tires and shocks. Heavy and consistent ice and snow requires special attention for your tires – especially if you drive on all-season radials. Tires tend to wear out more quickly during winter driving conditions and should be checked frequently. Regular rotation should occur every 6 months or 6,000 – 8,000 miles.
Wiper blades take a beating during winter months.
Cold temperatures and corrosive salt can have a destructive effect on rubber wiper blades. Having a clear, unobstructed view of the road is important and with worn wiper blades, drivers are at risk of weakened visibility through the windshield. Wiper blades are easy to change on your own or can be done by a professional during your next oil change appointment.
Clean your vehicles under-body to avoid corrosion.
Through the winter months, corrosive salt can build up on your vehicle's underbody and can be removed effectively with a high-pressure sprayer. Salt removal does not require special chemicals or solutions. A manual car wash with a high-pressure hose will do the trick. Pay special attention to the areas near your front and rear tires where snow and salt tend to build up.
A rattle, clang or squeal when you hit the breaks should be checked.
Being the most important safety device on your vehicle, breaks should be inspected at least twice a year. Even if you don't hear or feel an issue with the breaks, it is essential to have pads and the functionality of your breaks checked by a professional to ensure they are working properly.
Check and top-off your fluids.
Vehicles work harder while operating in winter conditions causing fluid levels to deplete faster. As we head into the spring, it is the perfect time to top off fluids or switch to fluids that enhance your vehicles operation in warmer temperatures.
Post-winter car maintenance is a safety essential considering the challenges Wisconsin roadways face in the coming months with much-needed pothole repair and asphalt maintenance. What is on your vehicle maintenance checklist as you prepare for warm weather ahead?
For information on asphalt paving maintenance and repair or to learn more about Wolf Paving's breadth of services, contact one of our experts today.