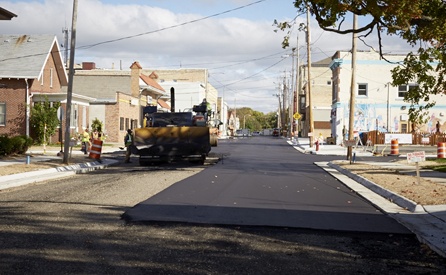 It's never too late to learn something new, and when it comes to asphalt pavement installation, there are many things that homeowners, commercial property owners, and municipality employees may not be aware of.
At Wolf Paving, we are Milwaukee, Oconomowoc and Madison asphalt paving contractors in who take pride in educating people about everything asphalt — it's our passion.
So please, take a look at this step-by-step overview of what an asphalt pavement installation requires — from demolition all the way to a smooth, new surface.
Step 1: Demolition and Removal
The first step in the asphalt installation process is to remove the existing surface, whether it is asphalt, concrete or pavers.
Demolition and removal is completed using heavy machinery, including small bobcats and forklifts and when necessary, front loaders and large dump trucks.


Debris is then removed.


At Wolf Paving, we recycle the old asphalt and concrete in our asphalt plants, turning deteriorating waste into strong, usable new asphalt. In fact, Wolf Paving typically recycles nearly 100% of the materials removed from a job site, making the choice to use Wolf Paving both green and environmentally friendly.
Step 2: Grading and Sloping
With a clean slate, technology helps Wolf Paving's asphalt professionals prepare the surface for appropriate water drainage.
Using laser-guided transits and automatic motor graders, the Wolf Paving team grades the surface to be paved to ensure that water will run-off appropriately.


Proper water drainage is vital to your asphalt because water is a major cause of damage, including potholes, cracks, and heaving.
Step 3: Prepare the Sub Base
You'd never guess that the most important part of your new asphalt surface is actually the sub base.
The sub base provides a stable surface to support new pavement.


The sub base is a frost barrier to help reduce winter damage due to freezing and thawing.


During the installation, base thickness, base stability, and compaction are

essential

steps. If the sub base is not appropriately compacted, the asphalt surface on top will not provide years of durability.
Step 4: Proof Roll, Undercutting and Sub Base Repair
Once the sub base is fully graded and compacted, Wolf Paving completes an extra step, called a proof roll, to ensure the underlying surface is strong and ready to support new asphalt.
A Wolf Paving proof roll involves driving a quad-axle dump truck, loaded with 72,000 pounds, row by row over the entire surface.


If the gravel flexes more than an inch under the weight of the truck, it means that the base is not properly supported.
If the proof roll finds soft areas in the sub base, Wolf Paving makes the necessary repairs in compromised areas to ensure the entire sub base is supportive.
Undercutting can be used to repair soft spots. This process involves digging down below the surface 2 or 3 feet and replacing the underlying soft clay or soil with stronger aggregate material.


Wolf Paving also offers alternative options, like using geo-grid, instead of undercutting. Using geo-grid involves digging only 16 inches below the surface and laying grid down to bridge base materials together. This creates a solid support structure for new asphalt at a fraction of the cost of traditional undercutting.


Wolf Paving has also pioneered a new process called plowing. This process involves undercutting the sub base, but instead of removing all of the soft clay and soil, it is instead mixed with added aggregate to improve the strength of the compromised areas.
Step 5: Binder and Surface Course
Once the sub base is laid and any soft areas are identified and repaired, it is time to add the binder.
The binder layer is large aggregate mixed with oil, making it very strong and durable.


The binder layer can be thought of as the strength of any new asphalt surface.

Step 6: Install New Asphalt Surface
Once the supportive structures of a new asphalt surface are installed, the top layer of fresh asphalt is added to provide a clean, smooth ride.
Surface asphalt is made up of small aggregate, sand, and oil.


This combination of materials creates jet-black asphalt that, when installed appropriately, provides a smooth ride and a shiny, attractive finished surface.
Step 7: Butt Joints and Transitions
It is very rare to install an asphalt surface that does not connect to existing driveways, roadways or parking lots. As such, asphalt-paving contractors must find a way to smooth the transition from old surface to new.
Butt joints are areas where old asphalt or concrete meets new asphalt pavement.


These transitional areas require special attention to ensure that the grading and water run-off is appropriate.


Butt joints are important to ensure drivers and pedestrians don't notice a difference in the surfaces.
To Complete the Project: Final Roll
Once the asphalt and butt joints have been laid, the entire surface is smoothed and compacted.
Using a roller truck, the new asphalt pavement surface is compacted and smoothed.


This process step ensures that no small bumps of aggregate or stone are left poking through the smooth new surface.
Your asphalt paving contractor should follow these installation steps to make sure your new asphalt surface will provide years of durability and functionally for your home, business, city or town.
But remember that installation process should only follow a proper surface inspection and a complete estimate. Take a look at the articles below that explain those processes completely.
Or click here to go to our Everything You Need To Know About Asphalt Paving resource page.
With 75 years of asphalt paving experience, from highways to driveways, we are your local source for all of your asphalt paving needs.
For more information on Wolf Paving or to request a free estimate for your next paving project contact one of our two offices. If you live or work in the Milwaukee area, call us at 262-965-2121. For the Madison area, call us at 608-249-7931.