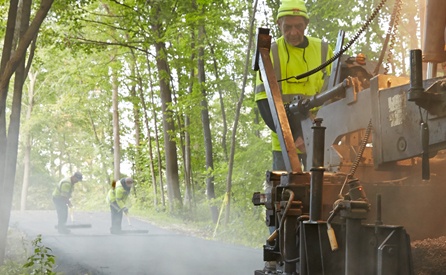 The snow has melted, the birds are singing and the first few plants have started to grow in your yard. Next to the beauty of spring, how is your residential or commercial asphalt driveway looking? Waukesha winters are hard on paved surfaces and spring is the perfect time to start thinking about a new asphalt driveway installation project. No matter which contractor you choose, here are our tips to make sure that your project gets done right.
Asphalt Driveway Construction Planning Process
The first step is getting quotes from at least three contractors. There are numerous elements that your quote should include. The process should start with an on-site inspection and a discussion or your specific needs. Next, the contractor should explain your options for materials (including green options like porous asphalt) and water drainage. Don't be afraid to ask a lot of questions about your asphalt driveway installation project - the right contractor will be able to answer all of them.
How To Hire the Right Contractor
After that site visit, look for a contractor that provides excellent customer service during the follow-up process. Google them and read the reviews you see on 3rd party sites like Angie's List, Yelp and Google Reviews. Once you have narrowed down your list, ask your top picks for past customers and job sites as referrals. Look for more than a printed page of glowing reviews — you should be able to go and personally see work that they have done and speak with past customers.
Asphalt Driveway Design Considerations: Materials and Placement
Once you have found the right contractor, you still have a few decisions to make. There are numerous types of materials that are used for different types of jobs. A commercial asphalt driveway and parking lot may use Porous asphalt, which allows water to drain through the surface, into a recharge bed, then into the soil below the pavement. This type of pavement helps enhance storm water management and groundwater quality. This green choice can be designed for varying situations and circumstances and is long lasting.
Another consideration is placement, particularly if you are creating a brand new residential asphalt driveway. Reputable asphalt professionals can help preserve and enhance the natural aesthetics of your landscape. Trees, rocks, and existing landscaping can be maintained with a carefully designed driveway. Placement is also about more than looks: Placing the driveway far enough from deep-rooted trees and shrubs will further help prevent future penetrations and cracks in the asphalt as neighboring plants grow.
Proper Asphalt Driveway Installation
Now that your design is done and you are ready to install your new driveway, make sure that your contractor does not cut corners and follows a good process. Proper installation practices, including temperature, timelines, surface preparation, foundation (or sub base) installation and a viable water run-off plan, will ensure that your final driveway surface is great looking and long-lasting.
Regular Asphalt Preventative Maintenance Is Important
Now that your new driveway is done, you will need to consider preventative maintenance in order to keep it looking like new. Making timely repairs on small surface problems will extend the life of your asphalt, from Madison to Milwaukee. Preventative maintenance is not just attractive, but also a good investment. Every dollar budgeted early for timely pavement maintenance will save up to five dollars in future rehabilitation and repaving costs. To capture these savings, make sure that regular sealcoating and crack filling are on your maintenance calendar.
Contact Wolf Paving to learn more about asphalt paving or to have your parking lot, road or driveway paved.
With 75 years of asphalt paving experience, from highways to driveways, we are your local source for all of your asphalt paving needs.
Wolf Paving offers professional paving services from Milwaukee to Madison, and everywhere in between, including all areas around: Sun Prairie, Oconomowoc and Waukesha.
It's never too early or too late to request a free paving estimate. Call Wolf Paving today. For the Milwaukee area, call us at 262-965-2121. For the Madison area, call us at 608-249-7931.