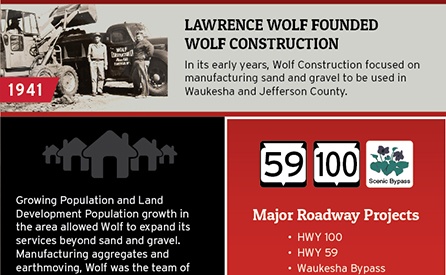 From modest beginnings, Wolf Paving's team of asphalt paving contractors have built a reputation for service excellence. In fact, you can track our growth through Waukesha County, Milwaukee and Madison as we built driveways, bridges, roads and parking lots over the past 75+ years.
We are proud to say that we've helped lay the foundation, literally, of many of the roads in Southeastern Wisconsin. We are also proud that our reputation for exceptional work and service has followed us as we expand our asphalt footprint in Wisconsin.
Take a look at the history of our company in our infographic below.

With more than 75 years of asphalt paving experience, from highways to driveways, we are your local source for all of your asphalt paving needs.
For more information on Wolf Paving or to request a free estimate for your next paving project contact one of our two offices. If you live or work in the Milwaukee area, call us at 262-965-2121. For the Madison area, call us at 608-249-7931.