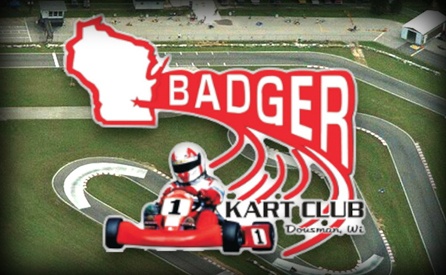 Expanding a raceway and installing new asphalt pavement, specifically designed for kart racing, is no easy feat.
Top speeds mean that the asphalt must be laid with exact precision, with driver safety in mind.
Exceptional customer service and continual communication is essential to make sure projects stay on time and on budget. Working with an experienced contractor for all projects, from driveways, to highways and even raceways, is a key consideration for your next paving project.
Take a look at this video that highlights Wolf Paving's work at Badger Raceway in Dousman, Wisconsin.
Wolf Paving History at the Track
Did you know that Wolf Paving ties to the Kart Club Race Track date back to the very beginning?

In the early 1950s, brothers Lee and Lowell Wolf raced go-karts around their driveway. When the racing action began to spill out onto the street, they needed a safe and controlled environment for their racing.

Lee purchased 40 acres of land west of Dousman, and he and Lowell graded a kidney-shaped track, that Wolf Construction paved. The track hosted races of 40-50 karts every weekend and as the weekend races grew in popularity, they started the North American Karting Association (NAKA.)

Shortly after, Lee and Lowell began grading a true road course track. They hauled in gravel in the evenings and again, Wolf Construction, now Wolf Paving, managed the paving project.

With the track expansion project completed, Utica Raceway was born. The largest National Races came to this small Wisconsin raceway, featuring weekend races with as many as 450 karts from all over the nation. As the years passed, the original track became what is known today as Badger Raceway.

Fast-forward to today with a completed raceway expansion project, and just like that, the Wolf Paving family found its way back to their roots at the raceway.
We have opened the new extension for practice. Have received many great comments, and excitement is high. Thank You for providing a great product! - Al Weisensel, BKC President
Ask your contractor these questions before your paving project:
What types of asphalt do you provide for clients?

Do you use custom asphalt mixes and produce those mixes in house?

What type of experience do you have with my type of project?

How do you manage water drainage?

Are you licensed, bonded and insured?

Do you offer a project warranty?
With more than 75 years of asphalt paving experience, from highways to parking lots and driveways, we are your local source for all of your asphalt paving needs.


For more information on Wolf Paving or to request a free paving estimate for your next paving project contact one of our two offices. If you live or work in the Milwaukee area, call us at 262-222-0719. For the Madison area, call us at 608-407-9935.