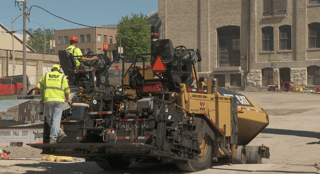 Wolf Paving recently had the honor of helping Plum Media class up their new location at 1418 W. St. Paul in Menomonee Valley by reconstructing and paving a new parking lot.
Partnering with Design 2 Construct, Wolf Paving completed four days of prep work and took half a day to pave the area. The project involved aggregate base reconstruction in the softer areas of the space, asphalt binder paving to provide a solid foundation, a proof roll to ensure sub-base stability and a final layer of fresh asphalt.
Take a look at the short video below and to get more on the story of Plum Media's relocation and renovation, search #1418StPaul on Twitter.
Final Results:
"For more than 20 years we shuffled parking spaces at our previous location. Thanks to Design 2 Construct and Wolf Paving we're looking forward to having our very own lot for employees and clients. Our experience with Wolf Paving was top notch and the lot looks great!"
– Rich Schmig, President, Plum Media.
Is your parking lot in need of base/soil stabilization or new asphalt pavement? Wolf Paving has been on the job for more than 75 years and offers custom asphalt paving solutions for commercial, residential and municipal asphalt projects. Contact Wolf Paving today for more information or to request a quote.