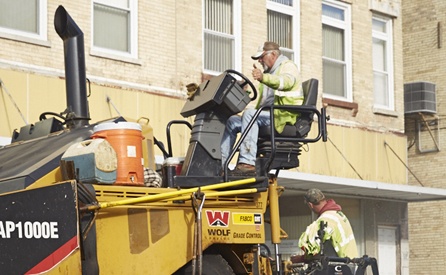 As a property manager, you understand the importance of making a great first impression and delighting your tenants so they continue to choose renting and leasing options from you.
Remember that the first impression doesn't start with a handshake and greeting: the first impression starts the minute people pass your building on the street or turn in your driveway.
Impress your current and prospective tenants with a beautiful asphalt parking lot surface, and never again be concerned about getting their attention.
Here are four key reasons why you should consider new asphalt pavement for your apartment complex:
1. Delight Your Current Tenants
Keeping your current tenants happy is important to all property managers, as it reduces turnover, saving you time and vacancy costs.
Asphalt is the best choice for paving your apartment complex lot because it is quick to install and cost effective - less construction inconvenience for your tenants, and easy on your budget. It is also the best choice for Wisconsin weather - asphalt is flexible enough to tolerate freeze-and-thaw cycles with better results than concrete, and the black color even helps speed snow melting. A smooth, uniform parking lot surface makes plowing quicker and easier in areas with snowy winters, and prevents damage to your plow or snow blower.
2. Attract New Tenants
We have all made snap judgments when viewing properties, and sometimes the judgment is to keep looking elsewhere. Improving the exterior of your apartment complex, including repaving, will get you noticed in the right ways.
3. Receive A Valuable Return On Your Investment
All property owners should have a budget for capital improvements - repairs or restorations that increase your property value or extend the life of the facilities.
4. Increase The Value Of Your Property
If you are looking to sell or leverage your apartment complex, improving your curb appeal by repaving your parking lot or driveway is a worthwhile investment. Enhancing the exterior of your property can provide an increase in value of up to 5%.
Find A Great Asphalt Contractor To Partner With
Most experienced landlords have a contractor horror story or two to share. Whether the workers never showed up, vanished with the job half-done, or completed it with unacceptable results, many property owners have a reason to worry when hiring help.
Locally-owned and operated, Wolf Paving owns not only their own equipment, but their own material plants. This ensures that complex projects can be completed with customized solutions - and on budget.
Whether you own one rental house or hundreds of apartments, what is on your exterior improvement to-do list?
With 75 years of asphalt paving experience, from highways to driveways, we are your local source for all of your asphalt paving needs.
For more information on Wolf Paving or to request a free quote for your next paving project contact one of our two offices. If you live or work in the Milwaukee area, call us at 262-965-2121. For the Madison area, call us at 608-249-7931.