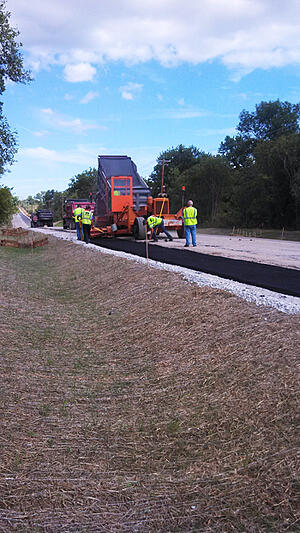 Do you know what to look for in a reliable, professional and experienced paving contractor for your next large municipal paving project?
To avoid delays, over-budgets and the potential for subpar work, we here at Wolf Paving have put together a list of qualities to help guide you in selecting an asphalt paving partner.
Quotes and Bids from Multiple Paving Contractors
The Better Business Bureau (BBB) recommends getting at least three bids from your potential paving partners. Once you have those bids, compare them. Which contractor is the cheapest, and which is the most expensive? What do the bids and quotes cover? The least expensive bid isn't always the best, and the most expensive bid may be overcharging. It is important to look at each written quote and compare the services listed to get a good idea of the type of work to expect and if the work the company performs is what you need on your next city paving job.
Licensed, Bonded and Insured
Your paving contractor should be licensed with the appropriate authority, bonded and insured. Legitimate paving contractors will have valid business and contractor licenses and have surety bonds attached to those licenses. Your preferred paving contractor should also carry workers compensation insurance, general liability insurance and an umbrella policy, and all their commercial vehicles and paving equipment will be properly insured.
Experienced with Similar Projects
Ask your potential municipal asphalt paving contractor if they have experience performing municipality jobs of similar size with similar project scopes. For example, Wolf Paving paved nearly three miles of Coffee Road in New Berlin, WI. The project spanned seven months in 2013 from April to October and consisted of five separate phases, including widening the road, installing GEO-Grid reinforcement, pavement milling for road removal, adding culverts and installing the new pavement.
Equipment and Materials
Does your municipal paving contractor have his own equipment and materials or will the company have to purchase material and rent equipment? A contractor that owns his own machinery and manufacturers his own material is better able to control the costs of the project and ensure the quality of the material. For example, Wolf Paving manufacturers their own hot and cold mix asphalt and asphalt sealer. We also own sand and stone quarries, and we recycle 100 percent of the surfaces we remove.
Industry Certifications and Memberships
Is your potential municipal paving contractor in Wisconsin a member of any industry organizations, and does the company have any certifications. The first membership you should look for is a BBB accreditation. While businesses do not have to have a BBB accreditation seal to be rated by the BBB, a BBB accreditation says that the company will perform up to the BBBs standards and resolve conflicts and disputes reasonably and within a certain timeframe. BBB accredited businesses must also agree to certain advertising standards and best practices.
The second membership you should look for in Wisconsin is a membership in the Wisconsin Asphalt Paving Association (WAPA). The WAPA strives to keep paving contractors up-to-date with the latest technologies and processes in the asphalt industry, and they help ensure that contractors utilize best practices and perform in a manner that provides the customer with high-quality products and services.
Municipality Project Resources
Not sure if Wolf Paving is the right choice to help you with your municipality project? Check out these resources to see if we would be a good fit for your unique paving project:
For more information on Wolf Paving products and services for contractors or to request a detailed quote for your next municipal paving project contact one of our two offices. If you live or work in the Milwaukee area, call us at 262-965-2121. For the Madison area, call us at 608-249-7931.