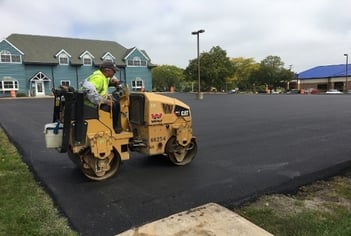 Looking for practical and cost-efficient way to give your small business an edge? Installing an asphalt parking lot is a great way to take something all businesses need and maxing it out to its full potential. An asphalt parking lot is an investment that will provide you with benefits for years to come, and will pay for itself before you know it!
As we all know, first impressions are an important step in any line of work. Before your customers even set foot into your building they see and drive on your parking lot.
What does the state of your current driveway or parking lot say about your business?
If it's less than flattering, consider the following benefits of an asphalt pavement:
1. Versatility
No matter how big or small your business, asphalt can play a role. It can be used for driveways, highways, parking lots and even for track beds that provide a safe base for high-speed passenger trains or heavy shipments. Asphalt pavement is also used worldwide as a solution for water storage, flood control and erosion.
2. Safety
The smoothness of asphalt pavement gives vehicle tires superior contact with the road. Open-graded asphalt allows water to drain through the surface and off to the sides, reducing the amount of splash made from vehicles. Water drainage also means there will be less ice come winter, resulting in less chances of people slipping and falling on your property. Asphalt also has better skid resistance and better visual distinction for lot markings.
3. Noise Reduction
Simply put, asphalt is quiet pavement. Traffic volume is reduced by 50 percent, or three decibels, when the surface is asphalt pavement.
4. Sustainability
Asphalt pavements are among America's most recycled products. Asphalt is able to be reused/renewed, which reduces the cost on parking lots and the need for new materials.
5. Longevity
When asphalt pavements have preventative maintenance, the life of the asphalt parking lot, driveway or highway will increase. Maintenance includes:
6. Timley
Asphalt can be installed quickly and requires minimal maintenance, which helps you keep your parking lot open to customers.
7. Increased Property Value
Improving the exterior of your property can provide an increase in value of up to five percent. When you go green using porous asphalt not only can you save money on installation, but you can also boost your property value through curb appeal and the use of green infrastructure. Which you can learn more about here.
Looking for more resources about how asphalt can help your business? Read these blogs:
How To Save Your Business Money By Adding Green Infrastructure
6 Ways Commercial Asphalt Paving Can Help Your Business Save Money
3 Facts Every Business Should Know: Asphalt Parking Lot Installation
Check out some of our case studies to see how we've helped businesses similar to yours and how we found solutions for their specific needs.
With more than 75 years of asphalt paving experience, parking lots to tennis courts, commercial driveways to golf cart paths, we are your local source for all of your asphalt paving needs.
Offering professional paving services from Milwaukee to Madison, and everywhere in between, including all areas around: Sun Prairie, Oconomowoc, and Waukesha.
It's never too early to request a free paving estimate. Call Wolf Paving today. For the Milwaukee area, call us at 262-965-2121. For the Madison area, call us at 608-249-7931.