We all love the convenience of our vehicles and roadways, but no one loves the noise traffic causes. Asphalt pavement is one way to help. You might be wondering "how"? We're glad you asked!
What Causes Traffic Noise?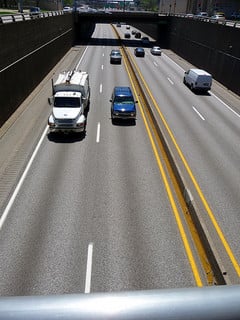 The noisiness of traffic is caused by three main things:
Volume of traffic – the more vehicles are on the road, the louder it is.


Speed of traffic – higher speeds equal higher noise.


Heavy trucks – more large vehicles (such as industrial vehicles like dump trucks or semi trucks) equals more noise.
How Can Traffic Noise Be Reduced?
Road planning authorities use several measures to try to mitigate road noise. Here are some of the most effective means to reduce traffic noise:
Vehicle controls: Vehicles are regulated in many ways to reduce traffic noise. Mufflers, tire tread, fans, and engine enclosures can all be designed to help reduce noise.


Land management: Noise concerns can be reduced by effective development near roads and highways. For example, if a new home development is planned near a highway, a buffering distance and noise reduction measures, such as walls, can be considered.


Road planning and design: There are many ways to reduce traffic noise using road planning and design techniques. For example, vegetation can be considered as a noise reducer. Traffic routes can be planned around noise-sensitive areas (such as schools). Making the road as flat as possible can also help reduce noise since engines will not need to rev up as much to handle slopes.


Asphalt pavement use in road design: One important way noise can be reduced is by using asphalt for pavement. A dense-graded hot-mix asphalt (HMA) pavement is as quiet at 100 ft. away from the road as Portland cement concrete (PCC) is at 200 ft. away. One asphalt mix, called open-graded friction courses (OGFC), is especially helpful in reducing noise because it is porous. It has a higher ratio of air voids, which helps water runoff but also helps absorb road noise.


Asphalt pavement can be made even quieter and even more eco-friendly when recycled tires are mixed in – this is called rubberized asphalt. Noise tests on rubberized asphalt have shown a 50%-90% reduction in noise!
Sources:
As you can see, there are many ways to reduce the noise associated with the convenience of vehicles and roadways. All the stakeholders, from governments to road designers to asphalt mixers, are working toward better and better ways to decrease traffic noise.
Interested in learning more about the benefits of asphalt? Contact Wolf Paving for more information. Or check out one of these blogs:
To learn more about asphalt in general, visit our Everything You Need To Know About Asphalt Paving resource page.

With over 75 years of paving experience, from highways to driveways, we are your local source for all of your asphalt and concrete paving needs. For more information on Wolf Paving or to request a free estimate for your next paving project contact one of our two offices. If you live or work in the Milwaukee, WI and Oconomowoc, WI area, call us at 262-965-2121. For the Madison, WI and Sun Prairie, WI area, call us at 608-249-7931.