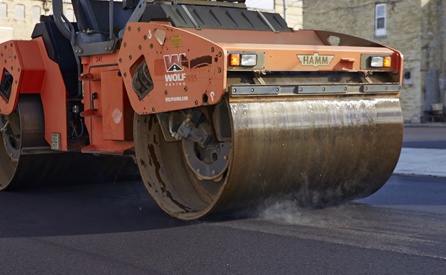 Whether you own a property that houses your own business, or a rental property that others use, keeping your maintenance costs down is always a top priority. At the same time, keeping your parking lot and any other paved surfaces in good condition is important for both aesthetic and safety reasons.
With 75 years of experience, our team at Wolf Paving has expert commercial asphalt paving contractors to help you make informed decisions when it comes to pavement maintenance, aesthetics, cost and installation.
If you are facing a big paving project, here are the top 4 reasons to consider asphalt paving:

Cost benefits:
Working with a Milwaukee asphalt-paving contractor has significant savings over using concrete or other paving materials.
With regular preventative maintenance, asphalt pavement has a long life that provides a great return on your initial investment.
A properly designed, installed and maintained asphalt parking lot will last from 15 – 20 years.
It's possible that you might encounter a higher up-front cost, but the long lifespan of asphalt paving provides space in your budget for many years to come.

Long lasting curb appeal:
With regular street sweeping and sealcoating, your asphalt parking lot or driveway will continue to look great as the years go by. Preventative maintenance, which includes regular sealcoating, gives asphalt a fresh, new look and added protection from UV rays, water penetration and topical spills, like oil. A well-maintained parking lot makes a good first impression and keeps your customers and/or tenants safe.


Environmental benefits:
There are two key reasons why asphalt pavement is a great, environmentally friendly choice for your next paving job.
Asphalt can be recycled. In fact, about 90 million tons of used asphalt pavement is crushed and recycled to make into new asphalt each year in the United States. Waukesha asphalt paving contractor Wolf Paving is proud to recycle 100% of the asphalt it removes from job sites.
Porous asphalt paving, an alternative to traditional asphalt pavement, allows water to flow through it and into the water table below naturally, rather than running off and causing potential flooding or water pooling issues.

Less inconvenient downtime: Professional asphalt paving contractors use an advanced installation process that can be completed much more quickly than a concrete project of the same size. If property owners choose asphalt paving, customers can use the new parking lot, driveway or walkways quickly. If your asphalt parking lot is large, it's possible to phase your new project or repairs over a 1-2 day window, or even a 1-2 year window. This makes sure that your repairs will not interrupt the tenants or customers who use your lot.
So when it comes to paving options for property managers, it is clear that asphalt paving makes good sense and can help you check off your list of must-haves.


Here are some additional paving resources that you will find valuable:
Reliable and experienced asphalt paving contractors are a valuable partner for every property owner to have. Look for Madison asphalt paving contractors who are licensed, bonded and insured. A contractor with experience completing similar projects and who owns their own equipment will be more likely to give property owners an accurate quote.
Locally-owned and operated, Wolf Paving owns not only their own equipment, but their own material plants. This ensures that complex projects can be completed with customized solutions, and a budget that keeps your cash flow intact.
With 75 years of asphalt paving experience, from highways to driveways, we are your local source for all of your asphalt paving needs.
For more information on Wolf Paving or to request a free estimate for your next paving project contact one of our two offices. If you live or work in the Milwaukee area, call us at 262-965-2121. For the Madison area, call us at 608-249-7931.