Businesses come and go in America. It's the nature of a country that's continuously changing and growing. It's rare to see a company last long enough to establish true expertise in a field, but that's what you get from Wolf Paving. We've been around for over 75 years, and we've been focused on one business plan that entire time:
To provide the best possible asphalt paving solutions for our customers.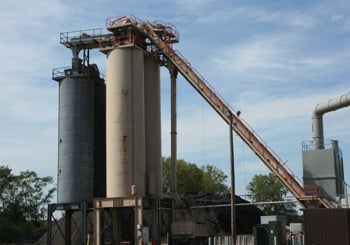 That's not to simply brag about our longevity – it provides real benefits to our clients! With decades under our belt, we've had time to build up an infrastructure that few other paving companies in the country can match. That leads to faster service, better products, and better paving no matter where you need it!
The Wolf Asphalt Paving Difference
Wolf Paving has:
Two separate

asphalt plants

,

where we create our proprietary asphalt blends. You can learn more about the direct benefits that offers you, the customer, here.


More than 20 custom mixtures, with a texture and strength to suit any size job.


Several owned quarries throughout southern Wisconsin providing our raw materials.



Extensive recycling facilities,

allowing us to recycle 100% of the asphalt we remove.


Total Project Management, overseeing every detail of every job, even a simple driveway.
Is it any wonder that even other paving contractors buy their raw materials from us? Even if you haven't used Wolf Paving for your own Wisconsin projects, there's still a good chance you've got Wolf asphalt paving installed already!
Interested In Learning More About Our Specific Paving Services?
Click a service below to get more information!
Or check out our paving resources page; it's jam packed with FAQ's, videos, ebooks, whitepapers, and more!
Partner With The Company That Contractors Already Use!
Since subcontractors have already discovered that we're a one-stop-shop for virtually any paving need, we wanted to get the word out to the public as well. It doesn't matter if your project is residential, commercial, or municipal.
Being locally owned and operated means we're familiar with conditions here in Wisconsin too! People from further south simply don't understand how brutal the winters here can be, and how vital it is to have asphalt that can stand up to whatever Mother Nature can throw at it. Wolf Paving is the only asphalt company in the region that can meet any size job the state can offer up.
When you look at our long history, our engineering expertise, and our one-year satisfaction-guaranteed warranty, it's easy to see why Wolf Paving has become Wisconsin's top choice for its asphalt needs.
Contact us today to see the difference that Wolf Paving can make for your next project!