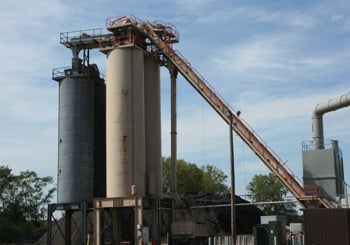 When people ask us "What makes Wolf Paving different?" the first thing that comes to mind is that we own our own asphalt production plants. Unlike most paving contractors, we have direct control over all our materials, including mines as well as our asphalt production facilities in Oconomowoc and Sun Prairie.
This allows us to offer better products, better services, and ultimately a better value to all our clients, large and small. Having our own asphalt production plants brings plenty of benefits to us, and to you!
4 Benefits of Having Asphalt Production Plants
1. Cost Control
Vertical integration means that we are providing the asphalt we lay for you at the absolute lowest material costs possible. There are no middlemen here – from the quarries, to the production of the asphalt itself, to recycling what remains, we own our supply chain. That allows us to offer our services for less than other contractors who buy their asphalt from third parties.
2. Total Mix Control
Beyond the immediate cost savings, having our own asphalt production plants means that we know exactly what's going into every mix. In fact, we have more than 20 custom mixes of asphalt blends, with plenty of specialty mixes to ensure we have the right kind of asphalt for every application.
The result is unparalleled control over the quality and consistency of our asphalt, which outsourcing contractors cannot offer.
Click here to learn about The Asphalt Manufacturing Process! Or if you are looking for more specific information, try one of our other resources:
3. Easy Recycling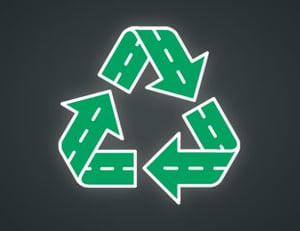 As part of our commitment to advancing eco-friendly asphalt, 100% of the leftover asphalt and concrete we haul away from job sites is recycled into new paving materials. This, too, is only possible because we own our own asphalt plants.
Beyond the environmental benefits, this means further cost savings to you, as well as allowing us to operate as recycling contractors as well. At our plants we recycle waste oil, old concrete, asphalt shingles, old asphalt, and more! We also accept materials from other contractors and job sites to be recycled as well.
You can learn more about the benefits and process of recycling pavement by checking out some of our other blogs:
4. Industry-Leading Warranties
Finally, because we know and control every element that goes into your asphalt pavement, we can offer a full one-year warranty on all our asphalt work. Few other paving contractors are willing to offer such guarantees, especially when they're using asphalt made by somebody else.
Learn more about our commitment to quality and customer satisfaction here!

With over 75 years of asphalt paving experience, from highways to driveways, we are your local source for all of your asphalt paving needs.
For more information on Wolf Paving or to request a free estimate for your next paving project contact one of our two offices. If you live or work in the Milwaukee and Oconomowoc area, call us at 262-965-2121. For the Madison and Sun Prairie area, call us at 608-249-7931.